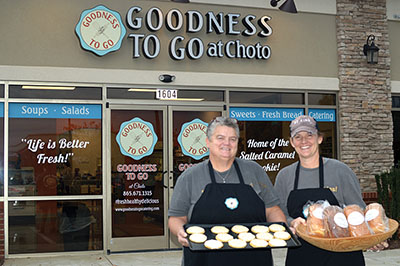 Lisa Nix, left, and Renee Nye, owners of Goodness to Go in Rocky Hill, have added a new location, Goodness to Go at Choto in Markets at Choto, to bring fresh-made bakery items and ready-to-go meals further westward in Knox County.

In response to requests from Farragut customers, Renee Nye and Lisa Nix, owners of Goodness to Go in Rocky Hill, have added a second location, 106 Choto Markets Way next to Don Gallo, in Markets at Choto.

While it has been called a bakery, a step inside the shop shows it is so much more. Breads, rolls, cookies and cupcakes share space with coolers of ready-to-bake or reheat meals for one or two, plus salads, soups, wraps, beer cheese and deviled eggs, as well as granola and cinnamon pecans.

Patrons find meatloaf, mac 'n cheese, chicken broccoli casserole and chicken pot pie sitting right beside a meal of grilled chicken with lemon orzo, pasta Alfredo and quiche.

Still, a signature favorite is their salted caramel cookie.

"It's pretty unique," Nye said. "We've never seen another one like it. We make it all here, from scratch. Nothing in this store is from a box.

"We cook things that your grandmother would have cooked, that my grandmother cooked, our families have cooked for years," she added. "There's no junk in our food; there's no chemicals in our food or things you can't pronounce in our food."

With their Rocky Hill location open since September 2014, Nix and Nye opened their Choto location Nov. 6.

Nye said they knew the Choto area was growing, and they already have a customer base in the area that travels to Rocky Hill.

"(The customers) kept begging us, 'Please, could you open a store in Farragut. Farragut needs a store like you,'" Nye recalled, adding she and Nix "have been hearing it for five years."

The partners learned there was a vacancy in Markets at Choto.

"We looked at it for over a year," Nye said.

"We were nervous (about opening a store)," Nix added.

"We kept putting it off, but the space was still available, calling our names, and the customers kept asking," Nye said.

Prior to partnering to open Goodness to Go, they operated The Lunch Ladies, a popular farm-to-table business at Episcopal School of Knoxville.

"We worked at the Episcopal School (of Knoxville) for years and cooked for them," Nye said. "The parents kind of pushed us (to open a shop) because they enjoyed the food so much. They just wanted to take it home and eat it … the idea grew from that."

That success encouraged Nix and Nye to open their Rocky Hill brick-and-mortar business to offer ready-made, fresh, preservative-free products that are easily available.

Goodness to Go at Choto is open from 9 a.m. to 7 p.m., Monday through Friday; from 9 a.m. to 3 pm., Saturday; and closed Sunday.