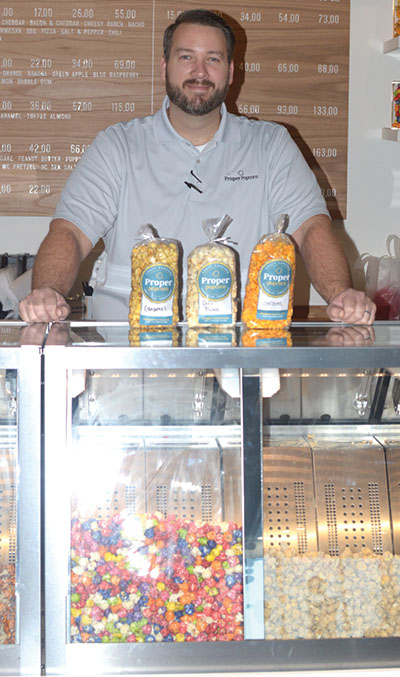 Adam Johnson, above, along with brothers, Joel and Phillip Johnson, opened Proper Popcorn, 9700 Kingston Pike in Franklin Square, Friday, Nov. 15, to give the area a "popcorn experience."

A love for popcorn spurred the Johnson brothers to open their own family business, Proper Popcorn at 9700 Kingston Pike, Suite 13, in Franklin Square shopping center, Friday, Nov. 15.

Proper Popcorn has more than 60 flavors: classic buttery movie-style, cheddar and caramel, to the more discerning, unique flavors such as dill pickle, which Adam Johnson said is "surprisingly delicious," Tex-Mex, two favorite Cookies 'n Cream and birthday cake.

"There's popcorn out there, but we thought we could make it better," added Adam, co-owners with brothers, Joel and Phillip Johnson — with contributions from their wives. "That's what we strive to do every day … coming up with new flavors.

"Popcorn is fun, and that's what we want to have — fun."

The Johnsons handcraft the popcorn fresh in the back of the store, Adam said.

The dream of opening a family-owned business has been two years in the making among the borthers and their wives.

"(Popcorn) always been a favorite family snack," Adam said. "We've always had popcorn. We love it.

"As we got older, we discovered gourmet popcorn. We'd purchase that and have it shipped in for family gatherings: Christmas and Thanksgiving," he added.

When Adam decided he wanted to go into business with his brothers, "one of my brothers threw out the idea of opening a popcorn shop," he said. "That started us on the track to what we have now."

The brothers then came about finding the Franklin Square location by chance, when one of the Johnsons' wives saw the vacancy as she was taking her children next door to Smart Toys and Books.

"There was a men's clothing store here before … but they were not renewing their lease," Adam said.

"We called about it."

Proper Popcorn offers more than just popcorn.

Boxes and containers of candy line one wall of the store, where customers can find all their movie-time favorites, such as Mike & Ikes, Reeces Pieces and Skittles.

The store also carries sodas, T-shirts, branded items and gifts.

"Not only did we want to sell popcorn, we wanted you to have a popcorn experience — a spot where you can come in and walk out with a gift for somebody, including some small knick-knacks — a personal touch," Adam said.

Proper Popcorn also carries gift cards and takes orders online at properpopcorn.com, or customers can come in the store, order and have it shipped.

The store is open from 10 a.m. to 8 p.m., Monday through Thursday, from 10 a.m. to 9 p.m,, Friday and Saturday, and closed Sunday.