Fighting off FHS girls rally, Lady Bulldogs start 10-0; Lady Ads bounce back vs. William Blount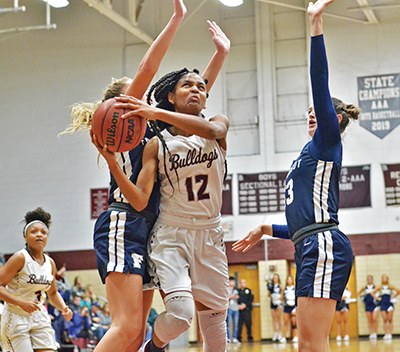 Bearden Lady Bulldog Zneyah McLaughlin, junior point guard, has a look of determination as she drives to the hoop against the Farragut defense, which included sophomore Avery "Ace" Strickland, right, and a teammate coming from behind McLaughlin.

KNOXVILLE – Bearden High School's basketball team got a huge win at home over Farragut Friday night, Dec. 13. But head coach Justin Underwood wasn't around to see it.

While Underwood was at home, stricken with strep throat, his team (10-0, 2-0) knocked off Kingston Pike rival Farragut 42-33 in a District 4-AAA tilt, before a spirited house at BHS, in a battle between two teams that entered the game with perfect records

In Underwood's absence, assistant Josh Suttles was acting head coach. And the Lady Bulldogs didn't miss a beat, darting out to a 13-4 lead by the end of the first quarter. Bearden was dominant on the boards early, and that left Farragut head coach Jason Mayfield looking for answers.

"I wish I could win one of these (games against Bearden), we used to win a few of them," Mayfield said. "We've got to open the game better by boxing out.

"Their first three possessions, maybe four, they got offensive rebounds and putbacks. They got one three (pointer) in transition early. Other than that, we're just giving them points by letting them be more physical and aggressive, getting the ball and putting it back up."

The Lady Admirals (11-1 overall, 3-1 in District 4-AAA) did rebound to beat 4-AAA foe William Blount 49-41 at FHS Monday, Dec. 16 (details later in story).

Bearden 42 Farragut 33

Farragut struggled to manufacture much against Bearden's trademark match-up zone.

Farragut's lone field goal of the opening frame came from sophomore Avery "Ace" Strickland. Claire Wyatt, senior wing/post, scored the Lady Ads' other two points of the frame from the free throw line.

"If anybody knows anything about Bearden, you know about coach Underwood and our match-up zone," said Suttles, a 1992 BHS graduate who is in his second season as a coach at the school. "We told the girls before the game, if they communicate they could really almost play this game without a coach because they know exactly what we want at all times.

"The kids picked it up and did a great job," he added.

The other trademark of Bearden girls basketball is team offense and sharing the basketball. Again, the Lady Bulldogs boasted a balanced scoring attack and were led by senior guard Jah'niya Bussell, who scored 11 points, including seven after halftime.

Emma Stone, another senior, had nine points on the strength of three 3-pointers.

"I just embrace this," Stone said. "I just enjoy it and take it all in and I know that my teammates are always there for me."

Senior center Jakhyia Davis scored eight points. Zneyah McLaughlin and Avery Treadwell added five points each, while Emily Gonzalez had four.

Farragut, which climbed back into the game with a 13-5 run in the second stanza, got a game-high 12 points from Wyatt.

Macy Barnes added eight points. Ashlyn Sheridan had six. Strickland chipped in with five and McCall Willis finished with two for the Lady Admirals.

Farragut 49 William Blount 41

Strickland's game-high 21 points, nailing four 3-point baskets, and Wyatt scoring 11 of her 15 points in the first half paced Farragut against WBHS (8-3, 2-2).