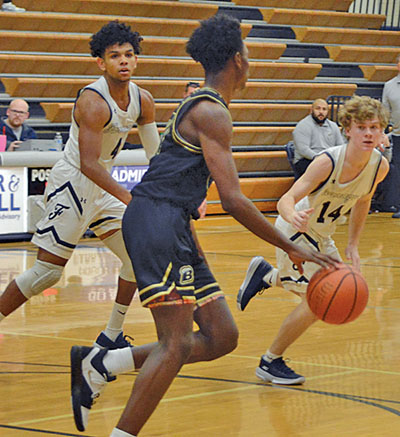 FHS senior guard Aaron Dozier, left in white uniform, and teammate Carter Mayfield, sophomore guard, press a Bradley Central ballhandler during this 5-Star Preps Classic game in Lynn E. Sexton Gymnasium Friday night, Dec. 20. The Bears won 77-66.

Farragut High School's boys basketball team got off to a blazing start this season, winning its first six games and claiming the championship of the Farragut Thanksgiving Classic.

But that all seems to be a distant memory, as the Admirals have now lost six of their last eight tilts, including two consecutive games late last week.

Farragut headed into the Christmas break on a sour note as it dropped a 77-66 decision to Bradley Central Friday night, Dec. 20, during the 5-Star Preps Classic in FHS's Lynn E. Sexton Gymnasium.

"We're going through a tough stretch," Admirals' head coach Jon Higgins said. "But we'll navigate our way through it. We just need to keep coming to work every day."

Friday night's loss comes on the heels of a 73-71 overtime loss to Austin-East in opening round 5-Star play Thursday, Dec. 19 --- a game that FHS had more than its share of chances to win.

But the game against the Bears was a different story, as the Admirals fell behind big early and never really recovered. After Bradley Central (5-3) got off to a lead, it never trailed in the game.

"They came out and they jumped on us early, but then we settled down and got back in it," Higgins said. "But then we let it get away from us again.

"Then we came back and got back in it again, but then we let it get away from us again," he added.

Despite watching his team struggle, Higgins was upbeat about his squad's prospects moving forward. The Ads (8-6), however, must continue to stay on course.

"We're just going to have to develop consistency, and if we do that we'll be all right," Higgins said.

Senior guards led the Admirals in scoring: Aaron Dozier with 19 points and Robby Geron adding 12.

"We have to start better and we have to finish better," Dozier said. "We came in here and we got off to a slow start — and honestly, we've had a habit of doing that.

"We just have to start strong and finish strong."

"Jon does a great job with his kids fundamentally ,and he's never out of a game. He'll never be out of one," BCHS head coach Chuck Clark said. "Give Farragut credit, they really have some great shooters."

Quante Berry led the Bears with 21 points, while Trey Curry added 20.