Despite enduring months of delays, Town's newest senior living community has high move-in rate at Dec. 19 opening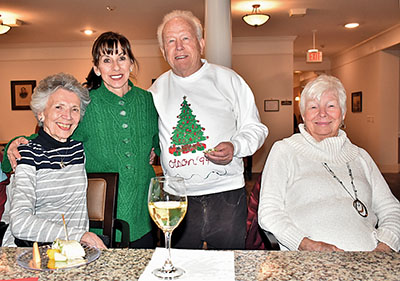 Enjoying "Happy Hour" at newly-opened The Villages of Farragut last Friday afternoon, Dec. 20, were, from left, resident Arleen Malcolm, event coordinator Sandi Simpson, Don Olson and Joni Jones.

Though opening months behind schedule, and almost two-and-a-half years after its official groundbreaking, The Villages of Farragut has new residents enjoying the holiday season at the senior living community's 230 Village Commons Blvd. home.

"We got our certificate of occupancy late Wednesday afternoon (Dec. 18)," said Melody Matney, Villages executive director. "Then we started making phone calls to our depositors — we have approximately 50 residents (in more than 40 apartments) moving in, and they started Thursday (Dec. 19)," noting the first residents spent the night Thursday.

"We are just so delighted to be here," she added.

With Phase 1 of The Villages at Farragut featuring 83 apartment homes, occupancy already "is about

50 percent," said Sandi Simpson, Resident Event director.

"I love it — I'm just crazy about it," new resident Geraldine Watson said. "Everybody is great, the meals are fabulous and it is just so homey. We are just one big happy family here.

"We love it, we love it, we love it," she added with enthusiasm.

With homes ranging in size from 529 square feet to 1,658 square feet, "We now have beautiful yet comfortable custom furniture in the common areas, including the community room, the dining room and pub, the clubroom, lounge areas, the chapel, salon and spa," Matney said.

"All outdoor common areas include covered porches, the third floor look-out and the courtyard," she added.

Meanwhile, "We are still … taking reservations for move ins," Matney said. To seek information about possibly becoming a resident, call

865-671-2500.

Celebrations, staff

While new residents enjoyed a late afternoon "Happy Hour" Friday, Matley said she and other Villages staff are looking forward "to being here celebrating Christmas with our residents.

"It's an exciting time."

As for the staff, "Our team brings a lot of experience in senior care to The Villages and we all have a passion to serve," Matney said about two teams, which includes her at the top of the Leadership Team followed by Lorri Ryan, Sales & Marketing director; Simpson; Lori Lynn Gorman, Administrative assistant; Doug Smith, Maintenance director, and Tom Hopkins, Executive chef.

Villages Support Team staff are chefs Greg Gorton and Nathalie Jones; Stephanie Sloan, Wait staff; Marion DeVelle, Resident Care; and night watchmen Paul Mancini, Steven Jenks and George Harrs.

"Additional staff members are scheduled for onboarding and will be joining our team in the immediate future," Matney said.

Phase II coming

Looking ahead, "Owner Gary Keckley is already planning Phase II for The Villages of Farragut, with building to start on the first group of independent living villas in summer 2020," Matney said. "These homes will allow for some customizing of finish work, and all community amenities will be included for the Villa residents.

"Keckley has also established our Admiral's Club to partner with local organizations and charities and to give back to the community," she added.