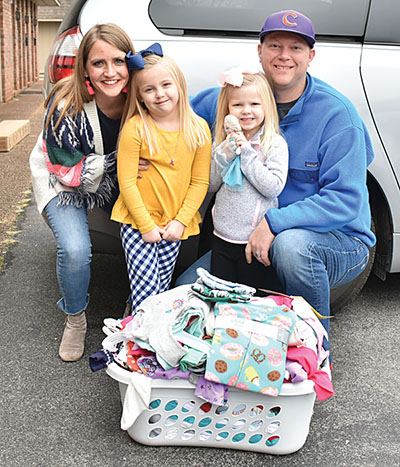 Teaghyn Luper, second from left, with her mother, Libby, father, Chris and sister, Anistyn, donated 200 sets of pajamas to the Compassion Closet Saturday, Dec. 21, following a heart-felt fund-drive she began earlier in the month.

A 5-year-old's compassion and concern has provided 200 sets of pajamas to area youngsters in foster care.

Teaghyn Luper, accompanied by her parents, Chris and Libby, and little sister, Anistyn, dropped off the sleep ware Saturday, Dec. 21, at Compassion Closet Farragut location, which provides area foster families with much-needed clothing and supplies.

"Is this the pajama fairy?" exclaimed Compassion Closet co-founder Melissa Cox as she greeted the child.

Teaghyn shyly nodded as she began helping unload the piles of pajamas from the family's SUV.

It was the second year in a row the youngster had others on the brain, having held consecutive December hot cocoa stand fundraisers. Last year she wanted to make sure children served at The Wesley House in downtown Knoxville received toys during the holidays, and raised more than $100 for that cause.

Her mother said she wanted to do the hot cocoa stand again this year, and thought about what she could do to fill another need.

"She said she liked to wear pajamas at Christmas, so maybe she could raise money for that," Libby said.

Initially, the drive yielded 60 pair, and Libby reached out to Cox, with whom she had connected earlier this summer.

"It was certainly a God thing," said Libby, as Cox shared with her the organization "is always in need of new pajamas."

"We serve hundreds a month here," said Cox. "Being able to provide that warmth and comfort to kids in foster care is so important."

The drive took off, with Libby posting a video of Teaghyn, asking for donations.

"We had donations of money and of pajamas," said Chris. "We had packages from Amazon arriving at our house."

They finished up their shopping for the donations early Saturday, bringing the total number of pajamas to exactly 200.

"I'm just stunned," said Chris, who is youth pastor at Concord United Methodist Church. "It has definitely been the Holy Spirit at work."

"We just feel lucky to be able to stand on the sidelines and watch it," Libby added. "It was all driven by her — we have just given her the vehicle to make it happen."

"I'm just overwhelmed by the generosity of a little person who has such a big heart," Cox said. "I try to model selflessness in my home, and obviously it was modeled in her home, too."

Teaghyn's efforts are not over. Her mother said she has challenged the University of Tennessee basketball team to match her efforts, along with Clemson's football team.

"She wants others to take up the challenge, and do it in their own communities and to keep it going," Libby said.