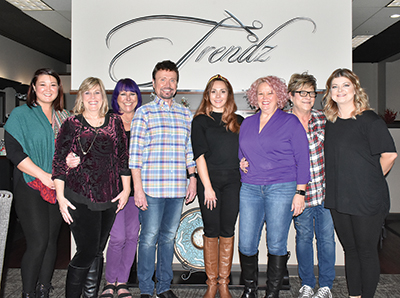 Among the employees remaining with Trendz Salon in Franklin Square after the business was purchased earlier this year by Carmen Smith, third from right, are, from left, Shelley Presley, Donna Whaley, Jennifer McCall, Rick Phillips, Monique Tevis, Renea Mull and Amanda Everhart.

Master barber/stylist Carmen Smith took her time when she was looking for the perfect business opportunity, but the new owner of Trendz Salon in Franklin Square thinks it was worth the wait.

She and husband, Ryan Smith, assumed ownership of the long-standing salon in September.

The couple moved to Knoxville several years ago following his long career in the U.S. Navy, and Smith said it took three years for her to find what she wanted.

It had all the qualities she had been seeking. "It is a good-running business," she said. "Trendz has been here for 33 years. Why change something that is already working?

"And, it is close to my house, which means I'm available for my two grandchildren who live with me," she added.

"I love it here. I have some great people working for me, and they have made the transition so easy."

Smith said there are 13 stylists who work at Trendz, including herself, offering haircuts, styling and processing and hair extensions. Additionally, the salon offers manicures, pedicures and waxing services.

"We have it all," Smith said. "We try to make it easy for our clients to come in and do everything they need to do, all in one place."

Smith said she has ben a master barber/stylist since 1988 — and that career choice was very "useful" as she and her husband were frequently re-assigned during his career.

"They never left us anywhere longer than three years," she said. "So it was easy for me to work as we traveled from port to port."

Trendz, 9700 Kingston Pike, Suite 9, takes walk-ins and new clients. Regular hours are Monday through Saturday, but stylists are willing to take Sunday and after-hours appointments, Smith said. For more information, call 865-691-5561.