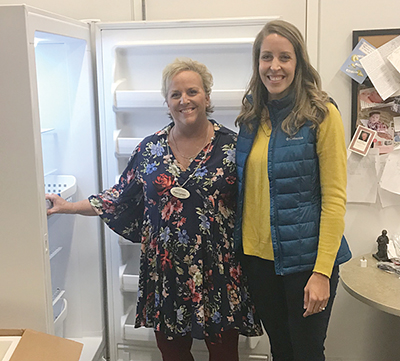 April Morrison, right, was the first donor Thursday, Dec. 19, at the second Knox County Mother's Milk location, Contemporary Women's Health Depot, 10031 Sherrill Bvld. Assisting is Pam Lyman, Assistant Practice manager at CWHD.

April Morrison of Kingsport drove more than 90 miles to be the first donor at Knoxville's second Mother's Milk Bank of Tennessee location, which opened Thursday, Dec. 19, at the Contemporary Women's Health Depot, 10031 Sherrill Blvd.

Morrison donated more than 200 ounces of milk, which was frozen and sent to Mothers Milk Bank in Austin, Texas, for pasteurization, although a new facility to serve the state is slated to open in Middle Tennessee early this year, according to a press release. 

"Mothers' Milk Bank at Austin fills prescriptions written by physicians for the most fragile babies who need the life-giving and sustaining nutrition of donor human milk to thrive," said Kim Updegrove, executive director of the Mothers' Milk Bank at Austin. "By partnering with Mothers' Milk Bank of Tennessee and the new depot site at the Contemporary Women's Health in Knoxville, we will raise awareness with a vital audience – breastfeeding women who are uniquely qualified to help save the lives of premature and critically ill babies."

Among the special guests were Amanda Patterson and her daughter, the latter of whom received human milk herself while hospitalized at East Tennessee Children's Hospital.

"The demand for human donor milk in hospital neonatal intensive care units continues to rise, noted Pat Steimer, who is a registered nurse and East Tennessee Regional director of Mothers' Milk Bank of Tennessee.

"A second milk bank depot site in Knoxville will give pre-approved lactating mothers a convenient drop-off location for their donations of the much-needed breastmilk," she added. "Although any woman can donate her breastmilk regardless of where she lives, the new milk depot at Contemporary Women's Health will make it easier for pre-approved mothers to donate this precious resource.

"The new depot site will receive and ship the milk to the Milk Bank for the mothers so they will not have to deal with the packaging."

The first Knoxville site opening was The Lactation Clinic earlier this year, bringing the number to 12 statewide.

Depots are collection sites only; no pasteurized milk is available there for purchase. The milk remains "raw" until pasteurized at the Milk Bank.

Donations can be made as a mother or as a giving gesture for the establishment of the Mothers' Milk Bank of Tennessee by going to www.milkbanktn.org. 

Women who are currently breastfeeding infants under 1 year of age are eligible to be screened at no charge to become human milk donors. Prospective donors can apply at milkbanktn.org by clicking on the Donate Milk button.

Steimer said she hopes to establish as many as six addition sites in East Tennessee "to make the locations more convenient to the families."

Milk donation drop-offs can be arranged by calling 865-540-1650. To connect with Steimer, call 865-207-3430.