Anniversary marked Jan. 2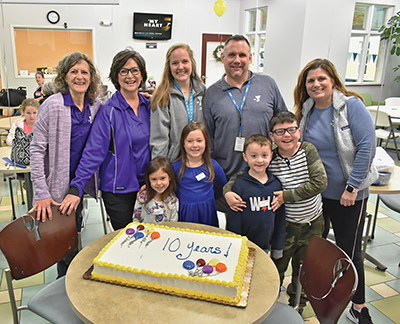 Davis Family YMCA, 12133 Northshore Drive in the Jefferson Park neighborhood, marked its 10th anniversary Thursday, Jan. 2, complete with cake and food throughout the day for members and staff. Joining in the celebration were, back row from left, Ellen Morar, community outreach; Pam Williams, director; Margaret Dorrycott, wellness coordinator; Steve Barnas, program director; and Meghan Rose, director for the facility's Child Watch programs. Front row, from left, are Child Watch participants Kaelyn and Everly Francis, sisters, and Ethan and Eli McCool, brothers.

Davis Family YMCA is officially 10 years old, and staff kicked off the beginning of its second decade Thursday, Jan. 2, with a day-long celebration.

The facility, 12133 Northshore Drive, offered cake and lunch to staff and members throughout the day, while balloons dotted the meeting room. Kim Ballard, YMCA of East Tennessee chief operating officer, was on hand, as was its president, Jim Dickson.

"We are thrilled to be here," Dickson said. "We have been able to fill a need and help everyone in this community — that's what we do.

"This facility has some of the best usage of any of our facilities and is helping a lot of folks achieve their goals."

The Davis Family Y opens at 5 a.m. on weekdays, and has a number of programs and classes seven days a week.

Child Watch — a free babysitting service for members' children and grandchildren — is offered at various times during weekdays.

Ballard said some naysayers early on predicted a low membership count.

"Some said we could never break 1,500 members," she said. "We broke that number the first week."

Davis Family Y currently has more than 6,700 members — and the number continues to grow.

"It's our busiest YMCA," Ballard noted. "What I want people to know is that our amenities and wellness equipment has changed, and we've got more on the way."

On its Facebook page, the facility announced an additional four treadmills, 17 spin bikes and two ascent trainers would be added.

The workout rooms were filled just two days into the New Year, primarily with regulars who weren't just starting from scratch.

"We will see a lot of new faces next week, though," Pam Williams, director, predicted.

"Especially since school starts back next week," added Steve Barnas, program director.

"I can't believe it's been 10 years," commented charter member Deanna Goodman, who said she appreciates the convenience factor of the Davis Family Y's location.

"It's convenient for the neighborhood, and it has so many helpful people. I love that they are getting new equipment, and my grandchildren have taken swimming lessons here," she added.

Saying she's currently working on strength training, "I'm trying my best to stay healthy," Goodman noted.

The Davis Family Y's indoor salt-generated pool has been a huge draw. Kim Wiebe, a member, also teaches swimming lessons there and is a personal trainer.

"The pool is amazing," Wiebe said. "I love it. The saltwater is so much better for your skin and hair."

For more information, visit its Facebook page or call 865-777-9622.