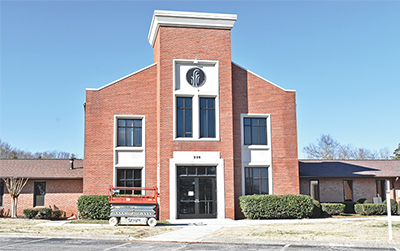 Town officials led local media on a tour of Farragut's new Community Center along Jamestowne Boulevard Friday, Jan. 3, less than two weeks away from its planned ribbon cutting Thursday, Jan. 16 — a date that coincides with the celebration of Farragut's founding, 40 years to the day.

The 10 a.m. ribbon cutting will be a joint venture with Knox County, as it also would officially "open" the new West Knox County Senior Center, which occupies the lower portion of what was formerly Faith Lutheran Church — although the Senior Center actually opened for business Monday, Jan. 6 (see realted story starting on this page).

"I honestly didn't know if it would happen in my career," said Park and Recreation director Sue Stuhl, who has been with the Town since 1991. She noted officials and volunteers were lobbying for a community center early on.

"To say I'm excited about it is a huge understatement," she added.

Following the ribbon cutting, tours of the Community Center will be offered until noon.

Stuhl said the Center will be open for viewing only starting Feb. 3, and host limited programming until its complete opening March 2, adding the Center will continue to be set up while staff undergoes training. New part-time employees will be hired to fully staff the Center six days a week.

Stuhl also said rentals will get under way in March, but reservations for classroom and meetings space can be requested starting Feb. 3.

While Farragut and West Knox County were served by Frank R. Strang Senior Center along Lovell Heights Road (near Kingston Pike east of Farragut) for more than two decades, and therefore already had long-standing programs in place, Stuhl and her staff have not had that luxury.

"They already had an active center, but we are just now slowly building our program," she explained.

In the 18 months since the Town purchased the building for $2 million, it has undergone quite a transformation, with Knox County paying for the initial $2 million in renovations and upgrades, then the County and Town splitting an additional $500,000 project cost.

Restrooms have been expanded and made compliant with Americans with Disabilities Act. A children's playground area was razed to make room for additional parking behind the building.

Described as "an event venue" on the brand-new Park and Rec website (www.farragutparksandrec.org/, unveiled Jan. 1), the former church site is an expansive two-story oversized space, ideal for meetings, weddings, receptions, parties or entertainment opportunities.

The Assembly Hall can hold 144 seated guests, or 308 standing, and offers additional amenities in a pre-function room and a catering kitchen.

The Community Center and Senior Center will share the gymnasium, an expansive commercial kitchen and some restroom facilities, while the remainder of the upper floor offers two community rooms, meetings space and offices for Park and Rec employees, who except for Stuhl have been cramped for space and shared cubicles in Town Hall.

Those employees recenly moved into their new headquarters in the Communnity Center.

"We are very excited about having our own office," said Wendy Smith, Public Relations coordinator who will be sharing with Tourism coordinator Karen Tindal.

Media assistant Carisa Ownby will be sharing a separate office with Arlene Higginbotham, who will be overseeing rentals for one of the Town Center's prime offerings in its Assembly Hall.

For more information about rental fees and reservations, visit the Park and Rec's new website, or call 865-966-7057.