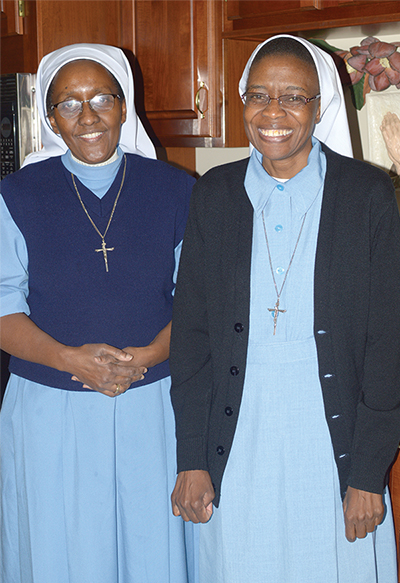 Sister Leviria Grace, left, and Sister Maureen Oum

St. John Neumann Catholic Church's members observed the Day of Epiphany, a Christian feast day, with an

Epiphany Open House in the home and convent of the Missionary Congregation of the Evangelizing Sisters of Mary on Sunday, Jan. 5.

Epiphany is "the manifestation of Jesus being one with the people," Sister Dorothy Casian explained, adding it commemorates the visit of the Magi to the Christ Child. "The Magi opened the eyes of the people to know Jesus more," she added.

The open house, hosted by SJN Women's Club in conjunction with the Evangelizing Sisters of Mary, not only gave the congregation an opportunity for fellowship and observance of the feast day, it also gave them a chance to visit the sisters and see where they live, Sister Elizabeth Wanyoike said.

She related the parish bought a house, across the street from SJN Church, in Prestwick Place subdivision, in 2014.

According to the church's website, that house became St. Patrick's Convent, which serves four of five members of Missionary Congregation of the Evangelizing Sisters of Mary. While four directly serve SJN, one works for Catholic Charities.

For more photos from this event, see Westside Faces in our print edition.