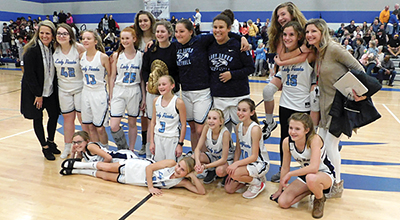 Hardin Valley Middle School girls hoops team celebrates after earning its first Golden Turkey Trophy with a win against FMS.

HARDIN VALLEY — Hardin Valley Middle School's girls basketball team earned a signature victory Thursday, Jan. 9, at HVMS, claiming a 30-19 win over Farragut (12-3 in conference) and earning its first Golden Turkey Trophy in the rivalry.

"I'm really proud of the girls because we just came out and took it to them," HVMS head coach Cahak said,

The Lady Hawks (9-6 in conference) were led in scoring by Ava Claire Wrather with 10 points. Madison Smith added nine and Kyndra West finished with six.

Addison Pressley led the Lady Ads with seven points, while Annie Priest added six — all from the free throw line after halftime.