Blood drive for 4-year old facing chemo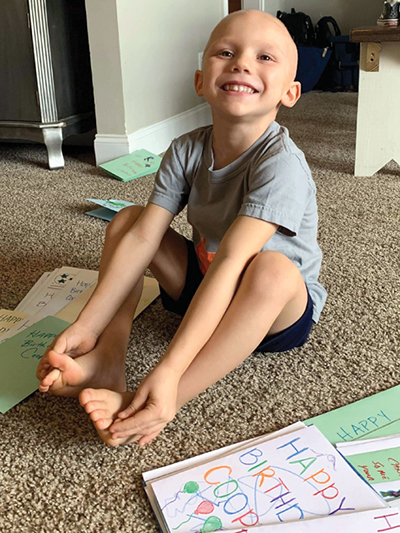 Cooper Stansbury, 4, is surrounded by birthday cards made for him during a blood drive in his honor Friday, Jan. 10, which he was unable to attend because he was undergoing his fourth chemotherapy treatment for Neuroblastoma. (

Cooper Stansbury of Farragut was unable to attend the birthday party held in his honor Friday, Jan. 10, but more than 100 friends, family members and even strangers made sure it would be a day he and his family will never forget.

While Cooper, 4, was at East Tennessee Children's Hospital beginning his fourth round of chemotherapy for neuroblastoma (which had been diagnosed in November), a replacement blood drive was held at Shoreline Church, where his family attends.

"We just asked for his birthday that people donate," explained his mother, Lauren Stansbury, who said she worked with MEDIC on the details.

"For every donation, a $15 credit goes toward Cooper's account to help with blood transfusions. Eleven people donating equals the cost of one transfusion."

Along with the donations, a birthday cake featuring a Captain America shield, a nod to Cooper's love for superheroes, was served, and cards were available to personalize, which Cooper could read at a later time.

Cooper's aunt and Lauren's sister, Morgan Bieber, helped with onsite coordination at Shoreline, along with many other family friends and volunteers.

"It just feels like an easy way to help, because so many people want to help in some way," Bieber said of the drive.

Lauren reported more than 100 people donated Friday, but anyone who may have missed that opportunity can still donate.

"Anyone can visit any Medic location at any time, and give them Cooper's name for the replacement," she said.

Cooper, who is described by his mother as "active, strong and wild — a total three year old going on 6" — has had some bouts of nausea associated with his chemotherapy in a treatment plan expected to last a total of 15-18 months, but the latest round "went well," she said, and he was able to return home Sunday.

The family, which includes Cooper's father, Sam, has been on "an emotional roller coaster" since Cooper's diagnosis, Lauren explained. While still processing the situation, the couple found out they are expecting twins.

"We are very excited about that, and we truly believe that the Lord is making a way for us," she said. "We are faithful in His timing, His plan and we trust the outcome.

"It's not easy, but we have the very best support system. Our family and friends are standing with us in prayer. This community means the world to us."

Family friends and Knox Catholic High School students Reagan Tate and Ellie Wolski are planning a T-shirt sale fundraiser for Cooper Wednesday, Jan. 25, during the Catholic vs. IMG basketball game at KCHS. Fellow Knox Catholic student Kiersten Mann designed the shirt, which features a drawing of Cooper along with the slogan, "Super Cooper Troopers."

Tennessee-based TriStar Hats Co. designed a red knit beanie in Cooper's honor, with sale proceeds going to the family.