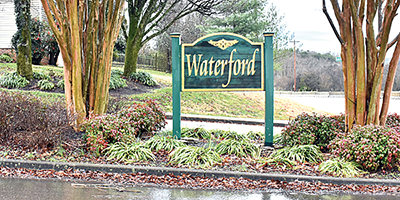 Car burglaries and thefts have been reported in Waterford subdivision, off Concord Road, during the holidays, while others, including Village Green and Fox Den, have since been targeted.

Car break-ins continue to plague Farragut neighborhoods, as Capt. Brad Hall of Knox County Sheriff's Office West Precinct reiterated during last weeks' Farragut Board of Mayor and Alderman meeting.

"There has been a rash of car burglaries and car thefts recently," Hall told the Board Thursday, Jan. 9. "Most of the dates I looked at were between Christmas day and (Dec.) 29th," when break-ins were reported in Waterford and on Farr Drive (in Thornton Heights) behind Sam and Andy's.

"Nine cars were broken into, and a couple of cars were stolen," Hall added. "The main thing is that the cars were unlocked, and in several of those cars were handguns that were stolen.

"Please lock your cars. Don't leave anything of value in them. Get the word out to friends, family and coworkers — don't leave anything in sight.

For example, "Just last night we had a couple of reports in Fox Den of cars broken into. They were unlocked, and one of those cars had a gun," Hall said. "There was also a car stolen in Village Green, and the keys were in it.

"Most of time, burglars won't break windows, but will go from car to car, take what they can of value so they could trade or sell (them)," he added.

Residents are encouraged to contact 911 if burglaries are in progress, or to call the non-emergency number, 865-215-2444, or e-mail crimetips@knoxsheriff.org.