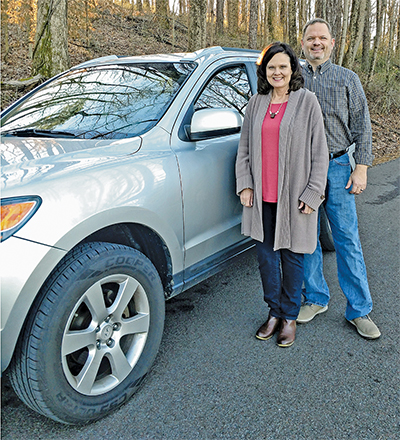 Paris, Tennessee, resident Mike Wilson said he and wife, Cheryl Wilson, are grateful for the kindness of Honest-1 Auto Care's staff who got the Wilson's car back on the road during the Christmas holiday.

A Farragut business, Honest-1 Auto Care, got a shout-out for going the extra mile from Mike Wilson, a Paris, Tennessee, motorist and his wife, who were stranded over the holidays.

"This was like a red carpet treatment, but I feel like this is how they always are," Wilson said, remembering the employees' kindness.

Wilson and wife, Cheryl, were traveling along Interstate 40 East from Paris to Knoxville around 2 p.m. Saturday, Dec. 21, to visit family for the holidays.

Wilson recalled when they got 15 miles from Knoxville, at mile marker 358 — just outside of Farragut, their car "just lost power.

"We found out later it was the fuel pump that failed," he said.

Wilson pulled over to the shoulder of the road and called "Star TN," which automatically connects a driver with Tennessee Highway Patrol.

With a recommendation from his insurance company, Honest-1 Auto Care was called.

Although it closes at 3 p.m. on Saturdays, Wilson said staff members told him, "'If you can get here, we will help.'"

He said three staff members helped with the car, fixing the vehicle in the parking lot.

"They fixed it within 30 minutes," Wilson said. "Everybody just did everything fast and with great attitudes.

"They didn't make me feel like I was putting them out," he added. "They were very accommodating."

Eric Van Cleve, owner of Honest-1, 150 N. Campbell Station Road, said his team wants to go "that that extra mile" to help others.

"Essentially, that goes back to the Bible," Van Cleve noted, referrencing Matthew 5:41, "when Jesus said, 'go that extra mile.'"

The verse referred to the Roman law to demand a local serve as a guide or porter for a mile.

"And, Jesus said, 'No, go that extra mile,'" Van Cleve said.

Simon of Cyrene later would carry the cross for Jesus under that law.

Today, Wilson said he is grateful Honest-1 mechanics were "kind to some out-of-town folks.

"These guys ought to be told, 'Attaboy!" he added.

Wilson contacted Farragut West Knox Chamber of Commerce president/CEO Julie Blaylock by e-mail on Dec. 26 about his experience with Honest-1 Auto Care. She, in turn, forwarded the e-mail to Honest-1.

While the auto repair business is not a Chamber member, Blaylock said, "It was really, really nice to start the New Year, especially, to open up your e-mail inbox and one of the first things you see is somebody paying a business a compliment.

"It's something that I wish people would do more of," she said. "There's never enough good news to go around.

"It felt like the right thing to do (to forward the e-mail)," Blaylock said. She also followed up with a phone call to the business. "I just told them to keep up the good work," she added. "We love to hear good news about any business, whether or not it is a member. It's a sign businesses are doing the right thing.

"When businesses do the right thing, just as when people do the right thing, there's growth from that," Blaylock said.