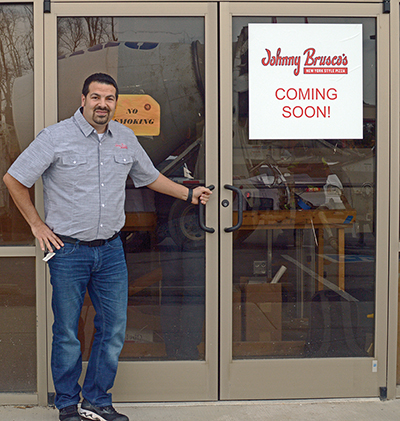 Jamie Garcia, co-owner with wife, Holly Garcia (not pictured), plans to open a Johnny Brusco's New York Style Pizza location in Markets at Choto the first of February, offering pizza and a whole line of other menu items, including a large children's menu.

Markets at Choto continues to grow, welcoming Johnny Brusco's New York Style Pizza, a chain, to its line-up of businesses.

Owners Jamie Garcia and wife, Holly Garcia, expect to open the restaurant the first week of February at 1620 Choto Markets Way, off South Northshore Drive.

"We will be their fourth location in Tennessee," Jamie Garcia said.

The restaurant will offer the traditional favorites and specialty pizzas, even featuring cauliflower and gluten-free crusts.

However, Garcia promises there is more to Johnny Brusco's.

"We will be a full-serve restaurant," he said. "It's not just pizza."

Starters will include garlic bread with marina sauce and salads; dinners will feature calzones, pasta, stromboli and lasagna; and a really large children's menu await patrons.

As a father of three, Garcia said the children's menu was important.

"Our kids are not big pizza kids themselves, so we'll have pasta, we'll have salads, and after the first 30 days we'll bring in our burgers — we'll have a burger line, too," he said.

For adults, Johnny Brusco's will have 14 beers on tap.

This is not Garcia's first go-around as a pizzeria owner.

With a lifelong love for pizza, he said, "I owned my own pizza restaurant when I was 18 years old … I did that for about four years."

Garcia then pursued higher education, entered corporate America, married and while raising three children joined AT&T, from which he recently resigned to pursue ownership of Johnny Brusco's.

"I always wanted to come to (owning a pizza restaurant)," he said. "I just knew if I was going to come back to it, then I wanted to do it 100 percent, have the right funding, be more mature and do it right.

The Garcias spent three years of research, food testing and looking for the "right fit" for them.

"We traveled between seven different states trying out their products," Garcia said. "We just kept coming back to Johnny Brusco's New York Style Pizza. ... The first thing that piqued our interest was in (Johnny Brusco's) philosophy, it is the neighborhood pizzeria.

Therefore, "It was an alignment of philosophies," added Garcia, who lives in Hardin Valley but is president of Farragut Youth Lacrosse. "We want to be as big a part of the community as they will let us be."

It also will offer an outdoor patio and carryout service, and 30 days after opening it will offer pre-ordering online.

Hours will be from 11 a.m. to 10 p.m., Monday through Saturday, and from noon to 9 p.m., Sunday.