Town anniversary coupled with ribbon cutting of new Community Center, Sr. Center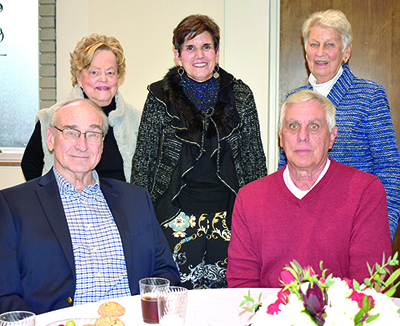 Seated are Ron Simandl, left, and Eric Johnson. Standing, from left, are Marty Rodgers, widow of David Rodgers, the Town's first attorney and the Founders' main legal source; Marianne McGill, whose late husband, former Mayor Ralph McGill, also was a Founder; and Betty Dick. Marinanne McGill and Johnson also served as aldermen on the first Town Board beginning in April 1980.

Hundreds of area residents, volunteers and elected officials — along with a handful of Town Founders — attended a milestone event with a dual purpose.

Town of Farragut's 40th Anniversary celebration coincided with the ribbon-cutting ceremony for the new Farragut Community Center/West Knox County Senior Center, with a joint program Thursday, Jan. 16, in the gym the dual-centers will share inside the former Faith Lutheran Church building, 239 Jamestowne Blvd.

"It is an especially important day for Town of Farragut because today is the 40th Anniversary of our incorporation," Farragut Mayor Ron Williams told the standing-room crowd.

The Senior Center opened Jan. 6, while the Farragut Community Center will be open for tours and limited programming starting Feb. 2, then will be offering a full slate of activities beginning March 2.

"Walking through this beautiful community center yesterday, I could not help but get choked up. I began to reflect and was overwhelmed with gratitude to our determined Town Founders and volunteers and Board members who dedicated themselves to setting up the Town, which lives by high principals," Farragut Vice Mayor Louise Povlin said. "... The Town of Farragut is 40 today."

Then using the famous quote from the Town namesake, Admiral James David Glasgow Farragut, Poviln said, "Damn the torpedoes, full speed ahead," to thunderous applause.

Williams then introduced four members of Farragut Community Group, the Town's founding body from 1979 and 1980: Marianne McGill, Ron Simandl, Betty Dick and Eric Johnson — all former aldermen.

"Wow is all I can say — this is wonderful," said McGill, whose late husband, former Mayor Ralph McGill (2009-2018), also was a founder. "This was a great dream of my husband for several years. He and (Town administrator) David Smoak worked very hard. ..."

Dick, who continues to contribute to the Town in various capacities — currently as a member of Farragut Municipal Planning Commission — was overcome with emotion when she spoke.

"I was one of the original founders. There were seven of us: two engineers, Ralph McGill and Eric Johnson; two chemists, George Dorsey and Ron Simandl; a highway patrolman, Gene McNalley; me, a nurse; and (the late) David Rodgers, our attorney," she said.

"... The vote was held on Jan. 15 (1980) — about 1,300 people voted, Dick added. "We were disappointed in the low turnout, but the vote was 3-to-1 in favor of incorporation. David Rodgers and George Dorsey drove to Nashville (the next day). We had our charter certified, and we became the Town of Farragut.

"I am proud to be part of the Town of Farragut, proud to have been a small part of that, and proud to be involved in the Town of Farragut."

Johnson, Smoak and former Aldermen Jeff Dobson and Bob Markli spoke, as did and several others, including local real estate broker Jim Nixon, whom Williams credited with putting the centers' deal together.