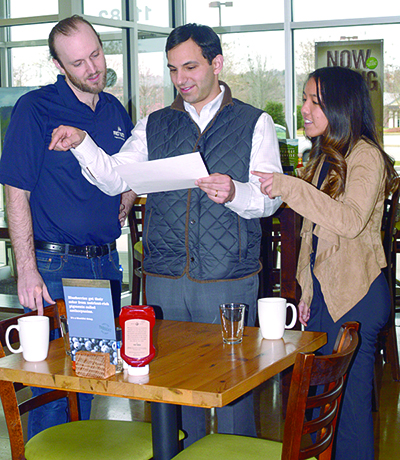 First Watch Turkey Creek café manager Justin Wallen, left, joins Nadim Jubran, vice president of Capstone Concepts, LLC, and Ciara Rattana, First Watch marketing and business development, in going over plans for updates to the restaurant's Turkey Creek location, 11682 Parkside Drive.

First Watch is preparing to update its Turkey Creek restaurant at 11682 Parkside Drive to a bar for brunch lovers.

Nadim Jubran, vice president of the Knoxville-based Capstone Concepts, LLC, which is the franchise group that owns and operates all First Watch locations in Knoxville, Chattanooga and Johnson City, said he hopes work will start within the next two months and be completed in late spring 2020.

Jubran said there is a possibility a bar could work in the other locations' futures as well, but for now Turkey Creek will be the first for Capstone and one of the first in Tennessee.

"We'll take a strategic approach to each location for alcohol," he added.

As for Turkey Creek, "We're excited," Jubran said. "It's a big deal for us. Alcohol was not something that, when we started, was part of the package.

"Over time, alcohol has become part of the brunch experience," he added. "So, after First Watch went through several years of tests and several iterations and best practices, we felt comfortable going forward with a product that we think will bring a unique offering to our current guests, new guests and the Farragut community."

Lots of support

Jubran thanked the community for its support in making the updates possible.

"Without their support we wouldn't be here," he added. "So we feel confident in this decision because we've received their support since day one.

"We feel it's our duty to continue supporting this community, and part of supporting it is giving them what they want."

No. 38 in alcohol component

Of the 300-plus First Watch locations throughout the country, Jubran said 37 offer the alcohol component.

"First Watch has been testing it for quite some time," he added. "After looking at all the data, it makes sense.

"Alcohol is our next step with that, and updating (the restaurant)."

And since the Turkey Creek location was the oldest First Watch restaurant in this area, having opened six years ago, Jubran said, "We needed to update this so we decided to put in a bar and test it out."

Layout plan

First Watch architects and engineers researched the logistics and functionality of spaces to come up with a plan for the Turkey Creek restaurant.

While the hours and food menu items will stay the same, "The layout will change a little bit, and the décor as well," he said, adding the bar would be placed in front of the kitchen entry, offer specialty drinks for the brunch crowd and augment First Watch's existing juice bar.

Specific drinks

"These are going to be all fresh-squeezed with the additive of alcohol," Jubran said. "We think that's a unique concept for us because we juice our own juice. Not every bar juices its own juice."

These will include signature cocktails and brunch classics.

Among them, "Our Million Dollar Bloody Mary is going to be something people will come back for," Jubran said.

There potentially may be some local beers and kombucha, on draft, as well, he noted.

First Watch Turkey Creek is open from 7 a.m. to 2:30 p.m., Monday through Sunday.