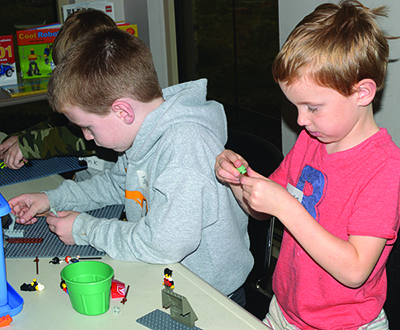 Farragut branch of Knox County Public Library held its first LEGO Club Thursday, Jan. 9, for children currently attending kindergarten through second grade. Among the members, Jacob Hickey (in gray) and Bennet Zierden work on their creations. A third- through sixth-grade group met Thursday, Jan. 16.

The Farragut branch of Knox County Public Library has started a LEGO Club at the library.

Kindergartners through sixthgraders can enjoy sharing LEGO bricks with children their own age for an hour once a month in the library, 417 N. Campbell Station Road.

The club is broken down into a kindergarten through second grade group, while the other group is for children in third- through sixth-grades.

The club started Thursday, Jan. 9, with kindergarten through second-grade children enjoying their first meeting. A third- through sixth-grade group met Thursday, Jan. 16.

Registration already has started for next month's meetings, which are slated from 4 to 5 p.m., the second Thursday of each month, for kindergartners through second-graders, and from 4 to 5 p.m., the third Thursday for third- through sixth-graders.

"They can either come in or call the branch, 865-777-1750, to register their child," said Merry Shipley, librarian at Knox County Library's Farragut branch and LEGO Club coordinator.

The LEGO club started when children in the library's storytime group began asking for it.

"My son and other boys that I've had in storytime have requested that we have a LEGO Club at the library," Shipley said. "It's for kids who either don't have access to the LEGOs or they are unable to do it in the after-school programs because it does cost money if you enroll your child, like, at the elementary school in the Bricks for Kidz program; and this (club) is free.

"This (club) is … to have fun and be with peers of your age because we do have an age limit," she added

"All they have to do is register because we have limited space. We only have room for 20 kids (in each group) in the program room."

During the meetings, children are "building whatever they want with their imagination," she said.

Although Shipley has a theme, or prompt, every month with which the members can "do whatever they want based on that theme;" she said if the child decides he or she does not want to use the theme, "they are more than welcome to use whatever bricks we have that are available to build anything that they want to."

There are some rules for them to follow, however:

"I am having the kids sign their names on one of these poster boards (on the wall, agreeing to) the rules of LEGO Club," she said.

Shipley said they include: "Respect the space (don't run around the room), be respectful of others (don't destroy other children's creations or degrade others), respect the LEGOS (don't chew on them or throw them on the floor) and respect themselves (don't degrade themselves because they feel their creations are as good as others in the club)."

Parents or grandparents have to stay in the library building during the event, she said.

"They are going to come in with me and they are going to check in their kids (in the program room)," Shipley said. "We will mark them off the list, and if the kids get bored after a half-an-hour and want to leave, that is fine.

"We will walk them to their parents in the building, and they can be done," she added.

The children also will have a chance to show their work.

"We will have them on display in the picture book area (for a week)," Shipley said. "They need to be proud of their work. It gives them a sense of 'I did this.'

"Then, the next Wednesday, I will tear them all up for the third- through sixth-grade (group)," she added.