Erasing 13-point 2nd-quarter Ads lead, HVA builds 15-point edge late, withstands rally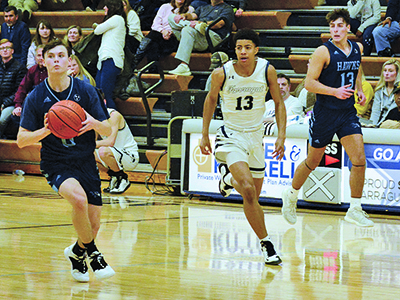 Tanner Granthan, Hardin Valley Academy junior point guard, looks to make a fastbreak feed as Hawks teammate Jack Niezgoda (13 in blue) and Farragut defender Elisha Brabson (13 in white) follow. Despite a late Admirals rally, HVA held on for a 69-63 win at FHS Friday, Jan. 17.

With Farragut Admirals skipper Jon Higgins saying "offense sets the tone for our defense," FHS built a 13-point second quarter lead against Hardin Valley Academy in a huge District 4-AAA rivalry game at home Friday night, Jan. 17.

Four 3-point baskets in the first quarter from junior wing Isaiah Smith, who ended with seven (23 points overall), fueled the Ads' fire, along with 10 points in the frame from senior guard Robby Geron.

However, "I think that's where we go wrong. That's not the way I try to teach them," Higgins added about tone setting, as his team allowed the Hawks to climb within a point at halftime before HVA dominated the fourth quarter and won 69-63.

"But once those shots stopped dropping, or maybe guys were trying to do just a little bit too much instead of staying patient with the offense, we allowed them to climb back in," he added.

"You win games defensively."

Leading that second-half surge were Jack Niezgoda, senior wing, scoring a game-high 23 points, with senior post Skyler O'Neal adding 22, as the Hawks improved to 11-7 overall, 5-2 in 4-AAA entering the week.

"When you have that statistic you know we're going to be pretty tough," HVA head coach Shane Chambers said.

"Mainly intensity, and just playing team offense and defense" was how O'Neal described the HVA turnaround.

Hudson Stokes' three-point basket put the Hawks ahead to stay, 48-46, as HVA led 50-46 going to the final eight minutes.

"Justin Sharp set the tone defensively, he played great on-ball defense against one of the best players in the district (Geron)," Chambers said. "Jack hit some big threes to start the third

quarter.

"Everybody who was out there on the court today, they hustled and really played team ball."

"In the second half they just played harder than we did, competed harder than we did,"

Higgins said. "A big difference

on the boards in the second

half."

Though a 15-4 run put the Hawks up 65-50 with under two minutes to play, Farragut stormed back to within six

"and got a steal, but turned it over," Higgins said about a sequence with 30 seconds left in the game. "That preceded the missed (HVA) free and (Farragut) lane violation," also down just six.

Early on, however, "We were real patient offensively and we made some shots," he said.

Individually, "I thought Isaiah (Smith) shot the ball pretty

well tonight," Higgins added.

"We started out in a 2-3 (zone defensively) but No. 20 (Smith) got going and hit a few threes. ... And then we switched to man

(-to-man)," Chambers said.

Other HVA scorers were Stokes with nine points, while Tanner Grantham, Avery Sonenshein

and Justin Sharp each scored four. Ty Gentry had two points and Nick Liakonis added a free throw.

Other scorers for FHS (10-11, 3-4 starting the week) were Geron with 15, Jack Wrapp and Jake Wallace five apiece,

Kaleb VanAcker and Elisha

Brabson four each, Saish

Malluri three and two points apiece for J. Bradley and Jack Carasso.