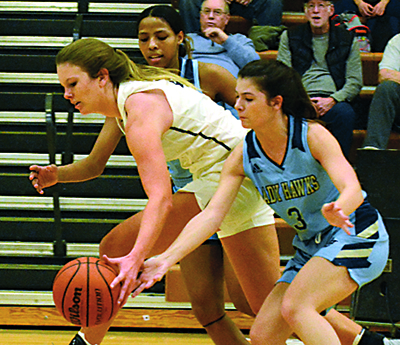 Claire Wyatt, Farragut senior post/wing, tries to dribble past light-blue jerseyed Hawks defenders Allie Sexton (3) and Tori Adams. The Lady Ads won this District 4-AAA rivalry showdown 69-54 Friday, Jan. 17, at FHS.

While Hardin Valley Academy senior post Malaka Grice had a career night in points, 28, and rebounds, 14, her team couldn't follow up a strong first-half effort against rival Farragut Friday night, Jan. 17, at FHS.

Though also getting 19 points and seven rebounds from senior guard Kate Bass, the Lady Hawks fell to the Lady Ads, who featured an especially strong trio, 69-54.

Claire Wyatt, FHS senior wing/post, led her team in scoring with 21 points for Farragut, which improved to 14-6 overall, 5-2 in District 4-AAA after the win.

Trailing Hardin Valley 14-13 after one period despite 11 points from sophomore wing Avery "Ace" Strickland, Wyatt said. "I was just trying to do something for my team. I think I was looking for my shot more.

"In the beginning of the game, they came out and they were ready and we weren't," she added.

With a 16-4 run led by Wyatt, eight points, and sophomore guard Keeleigh Rogers, also scoring eight, the Lady Admirals zoomed ahead 29-18 early in the second period.

"Then we dropped out of that press and we went on a run, and got up — and we relaxed — and that's when, at the end of the half, they made that run," Wyatt said. ... We let them have too many easy baskets at the end of the first half."

Led by Grice's three straight baskets, HVA went on a 7-0 run to close within 29-25 before a late Lady Ads push upped the lead to 36-25 at the break.

But at halftime, Wyatt said the FHS coaches addressed that issue. "We knew it couldn't happen again, so we came out ready," she said.

With Strickland scoring 19 total and Rogers 12, Farragut would built a 20-point lead. Macy Barnes scored six, McCall Willis four and Madison Hodge two points for FHS.

"In the second half we really came out with a good defense, and I think that's what separated us from them," Strickland said.

However, "I felt like for the whole game we were making a lot of second-effort plays," HVA head coach Jennifer Galloway said.

As for Grice, "for the last few games she's found her niche down low, " she added. "We've done a good job getting her the ball. Tonight she did a good job of rescognizing when she needed to kick it out."

"Kate knocked down shots. "She's definitely a shooter, but she's also a great rebounder because she goes to the boards every time. She's very consistent in everything she does."

Allie Sexton, Hardin Valley senior point guard, "did a good job knowing when we needed to push and knowing when we needed to be under control," Galloway said.

Maddie Norris scored four and Evelyn Hess three for HVA, which fell to 2-7 in district.