FHS mom's suffering after step-daughter's suicide turning into preventative action through Hope Squad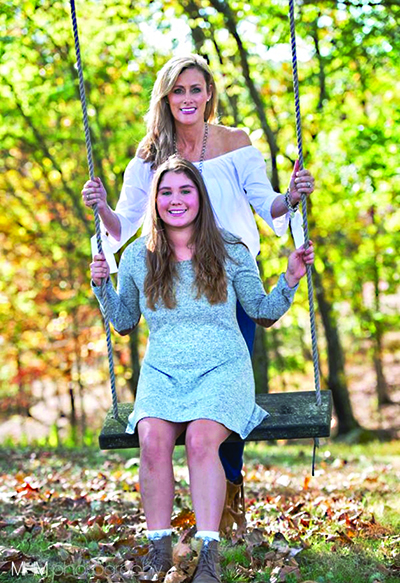 Dana McElveen and her step-daughter, Sasha McElveen, are pictured in a family photograph taken in the fall of 2018, just a few months before Sasha's suicide. In her honor and memory, McElveen is helping to bring the peer suicide prevention program, Hope Squad, to Farragut High School.

A Farragut mom is determined to offer a lifeline of hope her stepdaughter was unable to find before taking her life a year ago.

Dana McElveen is working with other parents and several administrators at Farragut High School to bring the peer-based Hope Squad to both the middle and high schools before the end of the semester.

The organization — which began 20 years ago in Utah, where it has achieved a zero percent suicide rate — would be the first chapter in the state of Tennessee.

While too late to help Sasha and the five other FHS students who took their own lives during a three-year span, Dana is optimistic the program would prevent others from suffering in silence.

'On Jan. 20, 2019 our lives were forever changed when our daughter lost her battle with depression," Dana and her husband, Ryan, shared on the fliers promoting the Hope Squad. "Twelve other parents in the last three years have suffered the same loss."

"I didn't want to wait another year," Dana said of her desire to get the program up and running.

Dana described Sasha, whom she had helped parent since she was 8, as a generous animal-loving teen. She cherished close relationships and her family, for whom she went above and beyond.

"Sasha would have certainly been the matriarch in the future that would have kept her family close," Dana said.

However, "starting in eighth or ninth grade, Sasha seemed somewhat unhappy, like it was hard to find ways to make her happy, but not until her senior year did she come to us and tell us she was depressed and had thoughts of suicide," her mother said.

"We found her a therapist, and she started taking medication and seemed to be better," Dana added

Sasha looked forward to graduating from FHS in 2018 and wanted to attend Appalachian State College in Boone, North Carolina, which her family saw as a good sign.

"She seemed really excited about it, but when she came home for Christmas, I could tell something wasn't right," Dana recalled. "She didn't seem well. We found out later she had stopped taking her medication. She also gave us all really big, expensive presents for Christmas, which we realized later was one way she was telling us goodbye."

Sasha returned to school after Christmas break and took her life in her college dorm.

The aftermath was unimaginable for Sasha's family — her father, her step-mother, her mother, Monica, and brothers, Jackson Fincher, and Walker and Evan McElveen — then Jackson lost a close friend and fellow FHS student to suicide just a few months later.

The first-hand devastation Dana witnessed compelled her "not to assign blame, but to affect change." She met with three other friends who were also moms: Susie Whitener, Angel Knorr and Kristin Motley — and they discussed possible options.

"We met just before Christmas," Dana said. "We talked about several possibilities, and we went home and prayed about it, thought about it, and all of us reached the conclusion it would be the Hope Squad."

The ladies are working with FHS school counselor Andi Tenry and one of the school's assistant principals, Karey Lowdermilk, on the program, which requires a $20,000 start-up fee that would cover the cost of training and materials.

Tenry said the school was "thrilled" with the announcement.

"Hope Squad is something that our counseling office has been talking about and following for the past few years in hopes that we could bring it to our school," Tenry said in an e-mail. "We are so grateful for Dana's strength and resolve to make this a reality."

Dana said the fundraising started earlier this year, targeting friends and family members for donations. So far, their efforts have raised around $10,000.

"Once we raise the entire amount, it will fund the program for four years at the high school and three years at the middle school," she said.

A comprehensive peer approach has apparently made all the difference in the success for Hope Squad, which currently has chapters in 14 states nation-wide.

"At the school level, having the students buy-in and support is the most important thing," Tenry said. "Last year we had students approach us about starting a suicide peer prevention program. ..."

Donations are being accepted at hope4utah.com/donate/, or by sending checks to Farragut High School, c/o Hope Squad, Cindy Lindsey, 11237 Kingston Pike, Knoxville TN 37934.