Everyday folks also lining up for PMT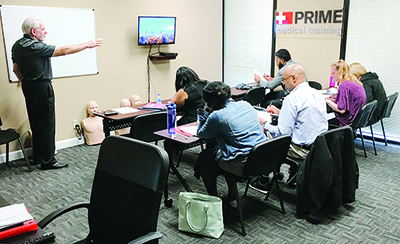 Prime Medical Training instructor Doug Fabick teaches emergency cardiac classes at PMT's Farragut location, 11020 Kingston Pike Suite 340 (across from Admiral Road). An authorized American Heart Association training provider, PMT offers CPR, first aid and other cardiac care classes to professionals such as physicians, nurses and day care workers, and non-professionals such as church leaders, parents and-caregivers.

In the past couple of years, cardiac emergency trainers are seeing a thrust in new parents, caregivers and other non-health professionals taking emergency training.

While Prime Medical Training provides CPR, first aid and other emergency cardiac classes to professionals, such as health care providers and day care workers, "we also have folks who want to learn for their own benefit, such as church members or new parents," said Andrew Randazzo, Prime Medical executive director.

"I think, as people are becoming more liability aware, we are definitely seeing more people who are not required to have the training coming in and getting it," he said.

"Especially in the last two years, there has been a huge surge of that kind of demographic, people who aren't required to have that training but want to get it anyway," Randazzo added.

Saying the training has made a huge impact in the community, "We have verified stories from a lot of people, just from the Knoxville area who had used the training to save somebody's life," he said.

"There was a recent emergency at Youth Knoxville," Randazzo added. "One of our students was able to use one of the AEDs we sold them at a church and performed CPR to keep the person alive until emergency help arrived.

"We've had two parents who have had their infants choke and they were able to use the training we provided to relieve the choking."

The company also has a hand in the elderly community.

"We have quite a large population of caregivers that take our courses," Randazzo said. "We partner with one of the state initiatives, called Choices, and we're one of their endorsed providers."

He explained Choices helps family members take care of their elderly parents or other relatives. One of its requirements is family members have to have CPR and first aid, so Choices refers a lot of their people to PMT.

Located at 11020 Kingston Pike, Suite 340, across from Admiral Road in Farragut, PMT is an authorized American Heart Association training provider.

"We also sell and manage (automated external defibrillators, or AEDs, which check the heart's rhythm and sends a shock to the heart to restore it to normal rhythm)," Randazzo said.

The company, which is in four cities, is in its eighth year of operation.

While its Farragut location has 10 trainers, the company has about 40 employees in total, he added.

Randazzo said the best way to sign up for training is to visit its website, primemedicaltraining.com. It has a calendar of classes and people can register online.

PMT's hours are from 9 a.m. to 6 p.m., Monday through Friday, and closed Saturdays an Sundays.

For more information, call 865-288-9011.