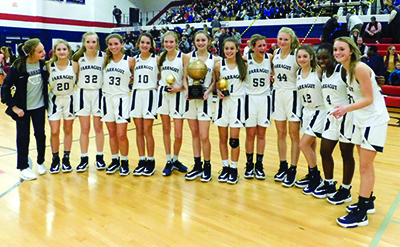 Finishing third in the Knox County hoops tournament, the Farragut Middle School girls earn a trip to this week's state sectional tourney, which begins Saturday, Feb. 1, at HVMS.

KNOXVILLE — Going into the third-place game of the James A. Ivey Jr. Memorial Middle School Basketball Tournament, Farragut Middle School girls head coach Devan McIntyre knew she had to devise a plan to stop Gresham guard Cadence Horner.

But Cadence scored the Lady Gladiators' first nine points before the Lady Ads were able to contain her with a box-and-one defense.

"We knew that Horner was a great player and we knew that we didn't want her to beat us," McIntyre said after Farragut notched a 40-33 victory Thursday, Jan. 23, at South-Doyle Middle School. "We had the box-and-one ready for her." Cadence was held to 13 points total.

Claiming third place, FMS is one of three teams to represent Knox County Middle School Conference in this week's state sectional tournament, which opens Saturday, Feb. 1, at Hardin Valley Middle School.

Thinking big, "This gives us a chance to ultimately win the state championship and that's our goal." McIntyre said.

After falling behind early, the Lady Admirals would close the opening frame with an 11-0 run and open a 13-9 advantage.

Farragut, the No. 3 seed, led 21-19 at halftime before pulling away in the third quarter.

Annie Priest led the Lady Ads in scoring with nine points. Hannah Enderson, named to the All-Tournament team, added eight. Sydney English also scored eight points. Addison Pressley, also an All-Tournament selection, had six. Carly Vining finished with five points.