KSC manager surprised with uniform, scores 4 points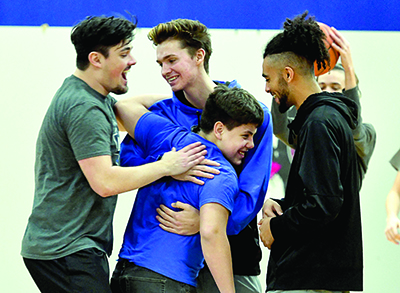 Keenan O'Leary, middle in back, receives a big hug from Hayden Ashcraft, as their Knoxville Christian School teammates Dylan Brandenburg, left, and Noah Chapman enjoy Hayden's celebration after he was presented a KCS unform to wear, as a player, in a Jan. 17 home game. He scored four points.

The high school boys players at Knoxville Christian School love the game of basketball, but they realize it is more than just a game. And on Friday, Jan. 17, they displayed it.

Their manager, Hayden Ashcraft, is a freshman who never misses a game — and even traveled all the way to Atlanta with them in December. He makes sure the medical kit is stocked. He checks on their fouls during the games.

He even does scouting reports for the coach on his opinion of the players' efforts at practice.

And the boys have grown to love their manager and value all that he does for them.

At the Jan. 17 pep rally, they got to show him exactly how much they appreciate him.

Our athletic director and head boys basketball coach, Joey Brandenburg, called Hayden to center court and told him how much he was appreciated — and told him the varsity players had something for him.

Team captains, Keenan O'Leary and Noah Chapman, walked to halfcourt and pulled a KCS uniform from their pockets. Hayden was speechless, then tears filled his eyes as he hugged the boys. He was instantly surrounded by the team, as everyone in the gym was reminded it truly is more than a game.

In the Jan. 17 home game against Liberty Christian, Hayden went into the game and ended up scoring four points — and the gym went wild after both baskets. Tears were falling from everyone, even the opposing coach and visiting team were screaming with joy.

It made Hayden's entire year.

This was a day and night none of them will ever forget.