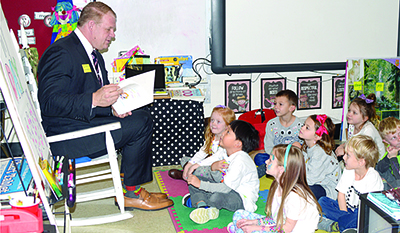 Knox County Mayor Glenn Jacobs reads "100 Days of Worries" to students in Wendy Gilstrap's kindergarten class at Farragut Primary School as part of the school's 100th Day celebration at FPS Friday, Jan. 24.

Farragut Primary School has found 100 Days of school worth celebrating, welcoming Knox County Mayor Glenn Jacobs to the festivities to read to a kindergarten class.

FPS principal Gina Byrd explained 100 Days is a little more than half way through the school year, but it gives the students a concept.

"Every day (students) come to school, they put a number (on a chart)," she said. "So, when we get to 100, it's just a good milestone. We only have 80 days left."

While the actual 100 days was Wednesday, Jan. 22, Byrd said, "We designated one day that they can celebrate (100 Days). It kind of ties into our counting by 10s, counting by fives, and it ties in with the curriculum as well.

"I love 100's day," Byrd added. "It's always exciting.

"A lot of the teachers are celebrating in different ways. I walked into a classroom yesterday, and (students) were making groups of 10s with Fruit Loops and made a Fruit Loop necklace.

"They have a big banner at the beginning of the hallway — 'Welcome to 100th Day of School,'" Byrd said.

Some first-grade classes also did STEM activities by building with 100 cookies, for example.

In other classes, students dressed like "100-year-olds;" wore T-shirts with 100 tiny balls, sparkles, dots, bells or pom poms; sorted 100 M&M's; made a stamp book; found 100 pennies in beans; and found a snack with 10 different items to total 100 items.

However, the highlight was Jacob's visit to Wendy Gilstrap's kindergarten class, where he read, "100 Days of Worries" and "The Wolf's Chicken Stew."

Gilstrap credited the mayor's visit to Erica Scheve, a school volunteer who also serves on the Knox County Council with Jacobs.