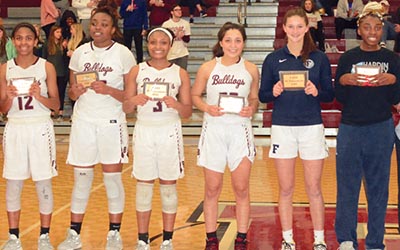 Bearden All-Tournament team, from left, Zneyah McLaughlin, MVP Jakhyia Davis, Jan'niya Bussell and Emily Gonzalez alongside Farragut honoree "Ace" Strickland and Hardin Valley senior post Malaka Grice.

KNOXVILLE — Avery Strickland lived up to her nickname, as "Ace" scored Farragut's first 15 points — ending with a clutch 3-pointer late for 32 total — en route to leading the Lady Ads to a 61-54 District 4-AAA consolation game victory against Heritage Monday night, Feb. 24, at Bearden High School.

"Coming off the Maryville game (a semifinal round loss Friday night, Feb. 21), we knew we would come out hard, and we just out-hustled them," the sophomore wing said. "We really didn't give much effort last game, and I knew I had to come off hot to get us started.

"She's a fantastic player," FHS head coach Jason Mayfield said of Strickland, who joined senior post Claire Wyatt on the All-Tourament Team. "And the thing that makes her so good is she works so hard.

"She's driven."

Other FHS girls came through late to stave off the Lady Mountains' attempt to rally, as HHS shaved an 11-point third quarer lead to 52-51 until Strickland's late three-point basket.

Key blocks from Keeleigh Rogers and Ashlyn Sheridan, plus late steals from Rogers and senior point guard Madison Hodge helped seal the deal — with Farragut converting late at the foul line.

"They're all defensive things," Mayfield said. "A lot of defensive rebounds there. Heritage is a good team — they're explosive.

"Madison, Keeleigh, Ashlyn were playing that stretch without Claire on defense because she had four fouls," he added. "Claire is our leader ... and she's our best help defender, too."

"Coming out we wanted to focus on making a statement," Hodge said. "I feel like we started strong, and then maybe lost it a little bit in the middle.

"But we kept on fighting back."

Wyatt scored 13, including eight of 10 at the foul line. Hodge scored eight, Rogers seven and Sheridan two.