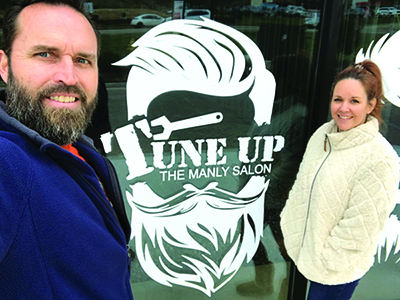 Farragut couple Frank and Janette Saroka are opening "Tune Up, The Manly Salon" in Hardin Valley in April.

If cars need regular maintenance to perfectly operate, the same standard certainly applies exponentially to people.

That's the idea behind "Tune Up, The Manly Salon," currently under construction at 10823 Hardin Valley Road by Farragut residents Frank and Janette Saroka.

The building's exterior has been completed, and concrete was poured last week, all in preparation for an anticipated April opening.

Janette describes the "one-of-a kind men's salon" as "offering a fun and exciting atmosphere, where you can enjoy a complimentary beer or cocktail while being pampered by one of our highly trained stylists.

"We [will] offer services including men's and kids haircuts, beard trims, manicures, pedicures, shoulder massages, straight razor shaves, facials and facial waxing.

"We offer a unique VIP program that allows for unlimited services each month," she added, noting the salon will be staffed by highly trained barbers and stylists while she and her husband will be working more behind the scenes and in the community.

"Our commitment is to deliver great quality services for today's modern man."

The Sarokas, who have resided in Farragut for 13 years with their children, Aiden and Savana, researched various concepts over the last 20 years before deciding on the Texas-based franchise.

Frank had long worked in the corporate world — the last 13 with Bush Brothers and Co. — allowing Janette the opportunity to stay home (she was Farragut Primary School's mascot, Finley the Dolphin, for three years among her volunteer efforts), but as their children grew older, they jointly decided on a self-imposed deadline to start something of their own.

"On our 20th wedding anniversary, we decided it was time for Frank to come off the road, and pursue the next chapter of our lives," Janette explained. "It has been a huge leap of faith.

Working with a consultant, they first considered, then eliminated starting a restaurant.

"We wanted something we both fell in love with," Janette said.

Intrigued with the idea of a barbershop, they met the Tune Up franchise crew at an Atlanta Expo.

"They had a bar set up with a bartender serving beer on tap," Janette recalled. "I thought, 'What?!' We sat down, watched the video they had playing, talked to the franchise developers for Tune up, and enjoyed our ice cold beer.

"At that time, all their franchises were located in in Texas, except for one in Greenville, South Carolina," she added.

"Within three days we were on our way to check out the salon, and the minute we walked in the doors, we knew it was the one."

It will be Tennessee's first Tune Up salon, and while the couple hoped to secure property in Farragut, they were excited to find the location in Hardin Valley.

"It's just growing so much, and has so much potential," Janette said. "We are just going to see what happens and may end up opening a second location down the line, especially as we see so many possible (location) opportunities being built here in Farragut."

Chronicling their progress on Facebook, "We can't wait," Janette said.

For more information, visit Tune Up Hardin Valley on Facebook, e-mail tuneuptn@gmail.com or call 865-622-6478.