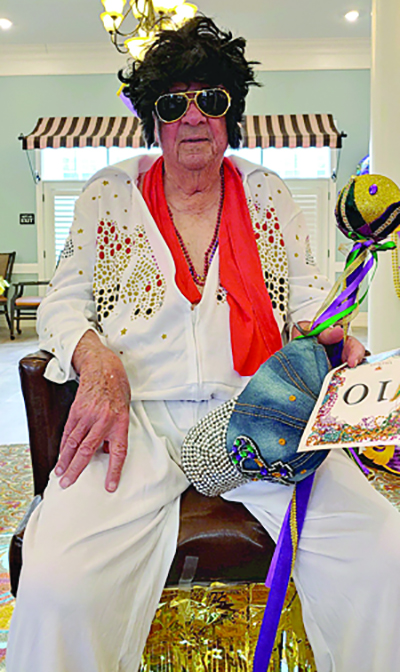 Residents Bob "Elvis" Koch named Parade King during The Villages of Farragut Mardi Gras celebration Tuesday afternoon, Feb. 25

The Villages of Farragut celebrated Mardi Gras at the senior living community, 230 Village Commons Blvd., Tuesday, Feb. 25.

Residents celebrated with an inaugural parade, music by Pastor Larry Trotter of Concord United Methodist Church and friends, a pageant to choose the king and queen and New Orleans-style food, said Sandi Simpson, Villages of Farragut resident event director.

Simpson credited Jack Sicard, chairman of the event committee and a former New Orleans resident, for helping plan the party. Simpson said residents are planning future parties, such as for St. Patrick's Day and Kentucky Derby.

Farragut Mayor Ron Williams, former Mardi Gras maid of the court Arline Guyton and Tony Cox, farragutpress publisher, judged the parade and candidates for Parade King and Queen, which went to Bob "Elvis" Koch Joanna Partain, respectively.

Meanwhile, residents and guests enjoyed gumbo, red beans and rice, avocado shrimp toast, crawfish corn fritters, crab cakes and bread pudding with bananas foster.

The Villages of Farragut is operated by Goodworks Unlimited LLC, a family business based in Franklin, Tennessee.