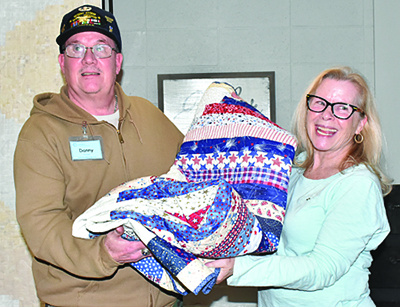 Danny Waller received this Quilt of Valor from Mali Glazer, who made it in his honor.

Two Farragut veterans recently were surprised with special quilts honoring them and their military service.

Kathy Ivey and Danny Waller each received a "Quilt of Valor," which was presented to them by Loudon County resident Andrew Lee, a former veteran who quilts and also works on behalf of the organization.

Lee repeatedly has shared his past struggles with post traumatic stress disorder and how he experienced healing through quilting, which also was a gateway into Quilts of Valor, a national non-profit organization founded 17 years ago by Catherine Roberts, whose son was deployed to Iraq.

"She dreamed he was in a bed, wrapped in one of her quilts," Lee said.

Under the mission statement "to cover all combat service members and veterans touched by war with comforting and healing Quilts of Valor," the organization has presented more than 200,000 hand-made quilts to veterans. Lee has made 40 quilts.

"There are two ways a Quilt of Valor can be given," Lee said. "Someone can nominate you to receive one, or if I know someone I can make one and present it."

Lee had made the quilt he presented to Ivey during a recent Knox Area Quilting Friends meeting. "I was so surprised I almost cried," said Ivey, a U.S. Army veteran.

Waller, a U.S. Navy veteran, received his quilt Jan. 31. It was made by Farragut resident Mali Glazer, a member of the Smoky Mountain Quilter's Guild.