Missionaries serving worldwide tell joys, hardships at Missions Conference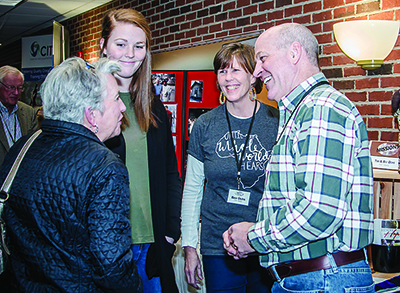 Christ Covenant Church P.C.A. church members talked to missionaries — including CCC members/missionaries Tim and Bev Ochs, right, who are serving with Feed the Orphans — as part of a learning experience at Missions Conference 2020, hosted by the church.

Christ Covenant Church P.C.A. members and their families heard first-hand about the lives and work of church-supported missionaries across the globe during its annual Missions Conference 2020.

More than 20 individuals and representatives of missionary groups, serving on all continents, shared with church members insights into their work to go "preach the gospel," CCC BusinessAadministrator and Missions director Paul "Andy" Halbert said.

The event started with a men's breakfast Friday, Feb. 21, continuing with a missionary panel discussion Saturday, Feb. 22 and ending with worship services, women's luncheon and a banquet Sunday, Feb. 23.

"We had about 200 attend the Friday banquet," Halbert said, adding about 60 attended the men's breakfast, and about 100 attended the women's luncheon.

The conference also included a Sunday morning worship service.The Rev. John Sartelle Sr. spoke at the service and the banquet.

"Some (of the missionaries) are members of our church," he said. "Of that group, five of those were either members or children of members who are serving in various places around the world."

Halbert said the church has been holding the conference since 1997.

"It's a missions weekend, so it focuses on the command to go preach the gospel," he said. "It's an opportunity for us to see what (the ministry of) those people that we're helping financially is like, what their life is like.

"We may not see them for

two or three years, so it's a great opportunity for people to get acquainted or re-acquainted."

The spectrum of missionaries ranges from those preparing for mission work to those who have been in it for years, Halbert said.

"Our missionary families have to raise their own financial support" and they go through training, he added.

Halbert heard attendees make such comments as:



• "We've never been to anything like this. It was wonderful. Thank you for inviting us."

• "Most of our churches no longer do missions conferences. Keep it up. It's so important for the church and for encouraging the missionaries."

• "You all put on a wonderful missions conference. We love coming."

• "We felt unusually connected and cared for by the people of Christ Covenant. It is really encouraging."



"Some of these people go places that are very difficult, they raise their kids there, they live there as best they can, they immerse themselves in that culture," Halbert said.

"Just coming home for a short period of time, coming back to the U.S. and interacting with people here, is a huge encouragement to them."

Halbert said he learned, more this year than any other, that "the people at Christ Covenant do, indeed, recognize that there is a Biblical mandate to go into all the world and preach the gospel, and they love and respect the people who are going.

"In the end, we say we are challenging our people to three things: to pray, give and go (preach the gospel)," he added.