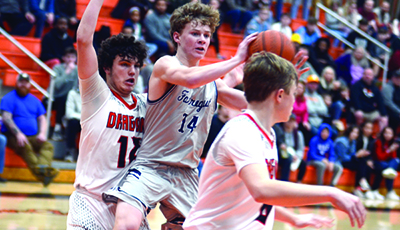 Carter Mayfield, Farragut sophomore guard (14), looks to pass against stiff Clinton defense during Region 2-AAA quarterfinal action Saturday night, Feb. 29, at CHS. The Dragons used a 30-point third quarter to rally past the Admirals 73-63.

CLINTON — When you win 75 percent of the game, yet the scoreboard at game's end says you lost, it can be quite frustrating.

Especially when such a game ends your season.

"We won the first, second and fourth quarter by 12 points — but lost the third quarter by 22," FHS head coach Jon Higgins said about giving up 30 points in the third frame — blowing a 10-point halftime lead — and losing 73-63 to the Clinton Dragons in the Region 2-AAA quarterfinals Saturday night, Feb. 29, at CHS.

With the Admirals ahead 31-21 at halftime thanks to a strong second quarter, "They came out (after halftime) and they jumped on us, and we weren't prepared to match (their) intensity offensively and defensively," said Higgins, whose District 4-AAA No. 3 seeded team finishes 17-17.

Building a 12-point second quarter lead after trailing 9-8 following one frame, Farragut "defended so well in the first two quarters," Higgins said.

Playing in his final Farragut game, senior guard Robby Geron — the Ads undisputed leader — scored a team-high 15 points.

"I thought Robby left it all out there, and that's all I can ask," Higgins said.

Geron, a 4-AAA regular season and tournament All-District honoree, was joined on the regular season All-District team by sophomore Isaiah Smith, who scored 11 against Clinton..

Only becoming eligible extremely late in the season, due to TSSAA transfer rules, 4-AAA All-Tournament selection Ryan Neal, sophomore guard, "has done a wonderful job. He's practiced hard all year," Higgins said. Neal scored 10 against Clinton (17-13).

Other FHS scorers: Zain Zitawi nine, Dillon Atwell eight, Jake Wallace five, Kaleb VanAcker four and Carter Mayfield a free throw.

Dragons guard Jackson Garner scored a game-high 33 points, including 14 in the third quarter before going 13-of-14 from the foul line to help seal things in the final frame.