Pushing aside slow start, BHS girls send Lady Admirals packing, 58-42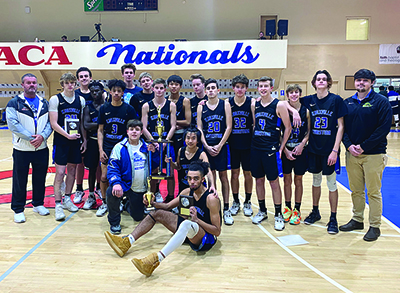 Knoxville Christian School head coach Joey Brandenburg, far left, joins his KCS boys basketball team holding hardware the Knights earned following a National Association of Christian Athletes Division 4 runner-up finish Tuesday through Friday, Feb. 25-28, in Dayton (Rhea County).

KNOXVILLE — Bearden High School's girls basketball team had to withstand an early potential knockout punch from rival Farragut Monday night, March 3, in the Region 2-AAA semifinals.

The Lady Bulldogs, 4-AAA regular season and tourney champs, fell behind by eight points in the first quarter, but rallied back to eliminate the Lady Ads with a 58-42 victory at BHS.

With the win, Bearden advanced to host the region championship game against Maryville Wednesday, March 4 (after deadline). The Lady Bulldogs (29-2) also will advance to Saturday's state sectionals with a chance to move on to Murfreesboro and the Class AAA State Tournament.

Farragut (23-10) opened a 10-3 lead and was clinging to a 15-9 advantage by first quarter's end.

"They came out and they punched us pretty hard," Bearden head coach Justin Underwood said. "I knew they were going to come in here and play hard. They're a great basketball team, and anytime you play a rival in an elimination game, it's always going to be hard."

The Lady Bulldogs went on an 18-8 run in the second stanza, finally getting their first lead when an Emily Gonzalez basket made it 25-23. Zneyah McLaughlin made a bucket as time expired, pushing the BHS edge to four at halftime.

Bearden got a huge game from freshman post player Avery Treadwell, who came off the bench to score a game-high 17 points. McLaughlin had 14 points for the Lady Bulldogs.

Sophomore Avery "Ace" Strickland scored 15 points for Farragut, while senior Claire Wyatt added 10 in her final FHS game.

"Our girls did everything we asked of them early," Farragut head coach Jason Mayfield said. "But we just couldn't keep them off the offensive boards."

The Lady Ads made just seven field goals after the first quarter.