A Father-Daughter Dance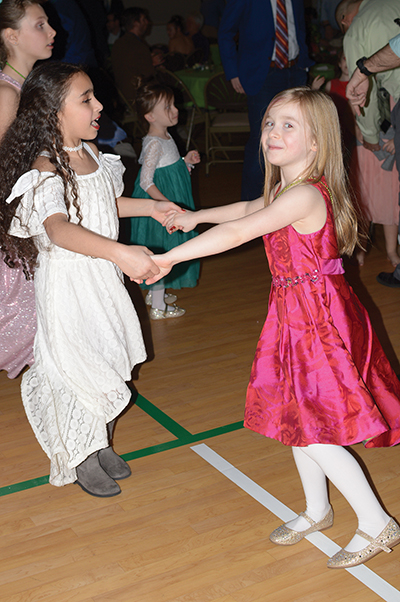 Anna Massouh, 6, left, and Lauren Watson, 7

An estimated 600, which included fathers, daughters and other family members, turned out for the 15th Annual Shamrock Ball — A Father-Daughter Dance, that took place this year in Farragut Community Center Saturday, March 7.

Brittany Spencer, Special Event and Program coordinator, said 170 tickets were sold in advance, while families also bought tickets at the door.

"Having the Shamrock Ball at the community center was a great way to get people in the doors for a community event," Spencer said. "It really showed us the potential for this building.

"We'll probably move things around next year, now that we've seen how it flows here, but I thought it was a great evening and everyone had a really good time," she added.

Along with dancing, fathers and daughters enjoyed treats, having their photographs taken and making a craft together. Proceeds from the event benefited Kiwanis Club of Farragut, which uses the money raised to send children to Fresh Air Camp, a Kiwanis camp; Teen Driving Roadeo, which takes place in September; and some goes to the Community Center to purchase an item for a child, Kiwanis president Marty Layman said.

"My daughters have been to all 15 of (the dances)," he added.

Because of the center's space limitations, Spencer said only pre-sale tickets, no sales at the door, will take place for the 2021 Shamrock Ball.

For more photos from this event please see Westside Faces in our print edition.