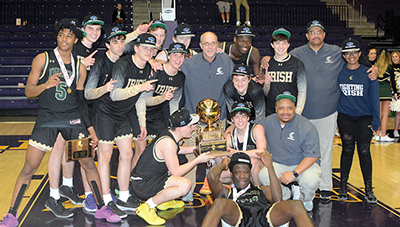 Having earned the "gold ball" trophy, Catholic players and coaches celebrate a Division II-AA state crown.

NASHVILLE — In more than three decades as Knoxville Catholic High School's boys basketball head coach, Mike Hutchens has led the Irish to some big wins.

But none was bigger than the victory the Irish captured Saturday night, March 7.

KCHS was the last team standing after it edged defending state champ Briarcrest Christian School 50-47 in the Division II-AA state championship game in Lipscomb University's Allen Arena.

"This has been a long time coming. It really has. It took a lifetime," said Hutchens, who has won 576 games in 31 seasons as Catholic's head coach. "This is a special group of kids and a lot of our kids are going to go on and play basketball at the next level. "But no matter where they go, we'll always be together."

Akeem Odusipe, 6-foot-9 post and the team's lone senior, went out in style. An All-Tournament selection, Odusipe scored nine points, grabbed 13 rebounds and had two blocks while playing all 32 minutes. "This feels great," he said. "We knew what we wanted to do. We focused on defense and we were much better defensively. We played better this year against better competition."

The Irish (25-4) took a 47-43 lead when tournament Most Valuable Player B.J. Edwards knocked down a 3-point shot with 2:28 remaining in the fourth quarter.

But KCHS mssing six of 10 free throws down the stretch left the door open for Briarcrest (25-6) to tie the game in the final seconds, but post Rodney Newsom missed a 3-point jumper at the buzzer.

Edwards, also a sophomore, scored 14 points and grabbed eight rebounds. "We really wanted it, especially after what happened against Oak Ridge (an elimination loss in Region 2-AAA semifinals) last year," Edwards said.

Sophomore Presley Patterson had a game-high 15 points for the Irish, and also earned All-Ttournament homors. He made five 3-pointers, including four in the third quarter. "That's our Presley. He's our designated 3-point shooter," Hutchens said. "His range is just incredible."

"I knew I had to get hot fast," Patterson said.

"We really came together," said All-Tournament freshman guard Blue Cain, who scored four. Junior wing Samuel Sompayrac added six, while 7-foot sophomore post Hanje Tamba scored two.