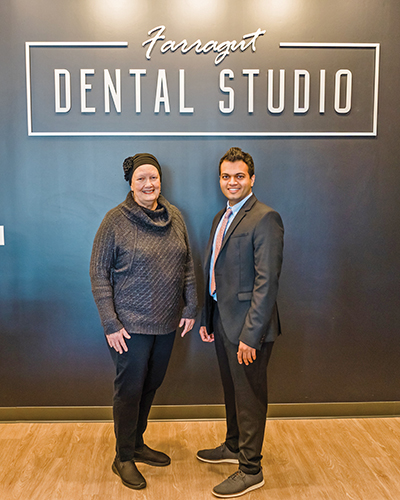 Long-time West Knoxville dentist Dr. Susan Orwick-Barnes, left, joined the Farragut practice of Dr. Kairav Vyas earlier this year. They are both practicing at Farragut Dental Studio, in Suite 101 at 11201 West Point Drive.

Farragut dentist Dr. Kairav Vyas has brought a familiar face to Town.

Dr. Susan Orwick-Barnes, who for 23 years practiced in the Lovell Heights Shopping Center, recently sold her practice to Vyas after deciding to ease her way toward retirement.

She is now working with him at Farragut Dental Studio, Suite 101 at 11201 West Point Drive near Farragut Middle and Farragut High schools.

In a letter to her patients, notifying them of the change, Orwick-Barnes said she had been asked about her future plans "many times," and had originally planned to continue working as long as she enjoyed her work and "felt good."

"Life has a funny way of stepping in and changing the best laid plans," she added — citing an unfortunate example.

A recurrence of cancer — she is a two-time survivor — forced Orwick -Barnes reconsider her circumstances.

"While we caught the new tumor early and I am responding well to the treatment, it got me to thinking," she said. "During my pondering and sending out feelers for someone with an interest in my dental practice, one stood out as the best match for me and my wonderful patients.

"He is a kind individual and his practice philosphy mirrors mine," Orwick-Barnes added. "We believe that each patient should be treated as if we were treating one of our family members."

In his own accompanying letter to Orwick-Barnes's patients, welcoming them to his practice, Vyas agreed.

"When I was introduced to Dr. Barnes, we both knew it would be a perfect match," he wrote. "Our team is excited to meet (our

new patients) and we are excited that Dr. Barnes and her team will be joining us, so you will see some familiar faces along with the new."

Born into a family of dentists in India, Vyas attended New York University, where he met his future wife, Harita, who originally is from Kingsport.

The couple married and moved to Knoxville in 2014, and have two young sons.

Orwick-Barnes works at the new location on a part-time basis, as she continues her cancer treatments, but has no immediate plans to retire, she said.

For more information, call 865-288-0416 or visit www.farragutdentalstudio.com.