Tornado relief response from churches, Turkey Creek Shopping Center, FHS lacrosse, FWKCC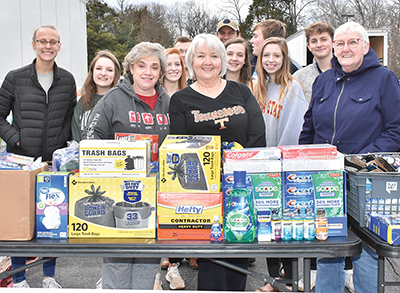 Compassion Ministries, a joint effort between Christ Covenant Church and Cornerstone Church of God, began accepting donations last week to help with Middle Tennessee tornado relief. Some from both churches helping with the effort were, from left, Lia Schreuder, Elizabeth Jones, Mona Coffield and Sue Robbins. Additional volunteers in no particular order included teen volunteers Emily Ogle, Meghan Tucker, Emma James, Jacob Hawkins, Garrett Tucker, Colin Ross and Mollie Hawkins.

Within 24 hours of last week's devastating Middle Tennessee tornadoes, members of the Farragut community jumped into action.

The Compassion Ministry from Cornerstone Church of God and Christ Covenant Church, The Pinnacle at Turkey Creek Shopping Center, the girls lacrosse team from Farragut High School and the Farragut West Knox Chamber of Commerce all responded to the needs of hundreds who were left without homes, supplies and basic necessities.

"When I heard about it, I thought, 'Where do we go? What do we do?'" said Robin Rolland, executive director for Compassion Ministry, which typically serves rural Appalachia with food and other needs. "I spoke with one of our board members, Todd Burnett, who is a judge in Fentress County. He said, 'We're OK, but Cookeville is a disaster zone,' and I knew I had my answer."

Burnett's wife, an assistant principal at Cornerstone Elementary School in Putnam County, offered the school as a distribution center, where items were taken Tuesday, March 10, following several days of donations. "I knew it was certainly a God thing when their school had the same name as our church."

Rolland estimated "hundreds" of donors responded to the call, where donations of diapers, water, hand sanitizer and food,

including Gatorade, had filled one semi-tractor trailer and an RV by the weekend, and more items continued to be donated through Monday afternoon, March 9.

"We had extra food donations recently, and it was as though the Lord knew we would be needing them," Rolland said.

The FHS girls' lacrosse team also held a drive last week, asking for donations of paper supplies, diapers, cleaning wipes, hand sanitizer and other needs in lieu of admission to the March 5 home game against Putnam County, which ultimately was postponed. They had several cars full of items by Friday afternoon, March 6.

"Cookeville is in our region and we play them every year," said team sponsor and FHS teacher Amy McWhirter. "We were supposed to play them last Thursday, so the team wanted to do something immediate for them. The game ended up being postponed due to the destruction in their area, so we will play them at a later date this season."

The Pinnacle at Turkey Creek shopping center also stepped up, partnering with Prestige Cleaners and Gouffon Moving & Storage Co. to collect emergency supplies for Nashville metro residents in an impromptu 24-hour collection.

Ashley Slimp, marketing coordinator with The Pinnacle, estimated about 20 people dropped off donations, filling a fourth of a 50-foot trailer. 

"This was a great turnout for a 24-hour collection effort, and we were amazed by the incredible generosity we experienced this week," Slimp said.

Farragut West Knox Chamber of Commerce's board of directors voted to make a $500 donation.

Julie Blaylock, FWKCC CEO/president, was directed to the Putnam County Emergency Management Agency, which had set up accounts through Paypal (donate@cookevilleputnamcountytornadorleiffund.com) and Venmo. (@Cookevilleputnamcountytornado)

"These are the only official funds where 100 percent of proceeds go to victims," Blaylock said.

The National Weather Service reported six tornadoes tore through Middle Tennessee in

the overnight hours of Monday, March 2, and Tuesday, March 3, killing 25 residents, and destroyed or damaged hundreds of homes and buildings.