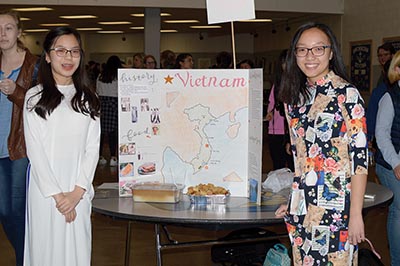 Kristine Le, left, and Nhm Bri

About 300 Farragut High School students, parents and faculty members turned out for FHS's World Culture Night, which took place in its Commons Area, Thursday, March 5.

The event offered booths on different cultures represented at FHS, as well as entertainment and lots of food, such as French crepes, arroz con frijoles (rice and beans), mole, zacusca (a Romanian vegetable spread), Czech pastries and more.

Emceed by Anna Wood, Max Negzyn and Magdalena Ohstron, students and a parent entertained the crowd with jazz, dances, drumming and singing.

For more photos from this event, please see Westside Faces in our print edition.