Top state efforts, freshmen record highlight first Farragut High School track & field meet of season among a mostly Knox County field of 11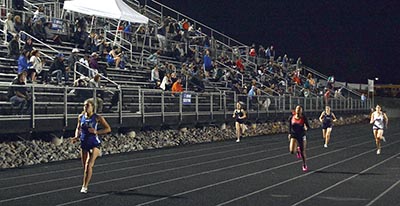 This 11-team meet at FHS's Bill Parker Track Thursday night, March 12 — showing a girls 200-meter heat — represented one of the last high school events performed in Farragut or Knox County. On Friday, March 13, COVID-19 virus concerns halted all county sports activity at least through Sunday, April 5.

Hosting its first track and field meet of the 2020 season, which featured 11 schools — mostly from Knox County — Farragut High School's team pulled off some special performances at FHS's Bill Parker Track Thursday evening, March 12.

Top FHS boys

Sophomore Mason Collins' long jump of 21-feet-1-inch "is probably top five in the state," FHS head coach Chris Allison said.

It's especially impressive "because he's never done track before," the coach added. "Probably the biggest one we've been waiting to get an appearance on. … He's a football kid. He's done really well in long jump in practice."

Collins' feat "is probably our biggest surprise," Allison said.

On the track specifically, the coach spoke about some "good 800-meter runners that are joining that other crop of 800-meter runners that are really going to help us out in the 4 X 800 and the 800 and 1600-(runs)," the coach said. "Senior Josh Ebbert has been working hard."

One of those 800 runners is junior Lance Simpson, an FHS golfer "who ran a 2.03 tonight," Allison said. "He's getting back into track after three or four years. He was really good in middle school."

Last Thursday's 400 run featured one of Allison's 4 X 400 athletes who, as a foursome, are ranked No. 9 in the nation.

"I think Scott Grunau ran a 50 (seconds), which is going to put him in the top five in state right now," the coach said about the senior.

Senior Evan McFerran, another 4 X 400 team member, won both the 100 and 200 dashes, while Jonathan Shved finished first in pole vault.

Lady Admirals of note

On the girls' side, "Another surprise for us was Annabelle Ekern in the 800," Allison said about the freshman "who came out and ran a 2:26, which is going to put her in the top five in the state right now."

Another Lady Admiral freshman, pole vaulter Samantha Harvey, "Cleared 9 feet today, broke the (FHS) freshmen record," he said. Harvey finished third in the meet.

Junior Cathy Hu won the 1600 run.