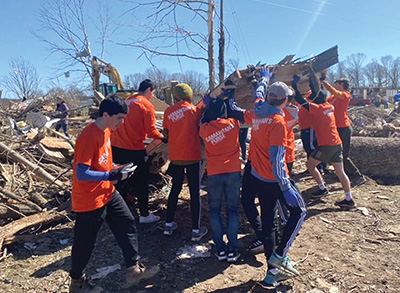 HARDIN VALLEY — Soccer recently took a back seat for the Hardin Valley Academy boys team.

The Hawks, who have split their first two regular-season matches in 2020, had a final scrimmage scheduled in Cookeville.

But Hardin Valley canceled its scrimmage against the Cavaliers. The Hawks made the trip to Middle Tennessee, but soccer was the last thing on their minds.

They spent a day aiding in the relief effort in the area, which was hit hard by tornadoes in the late hours of Monday, March 2, and early hours of Tuesday, March 3.

The scrimmage "was after the tornadoes hit on a Tuesday, so we decided to cancel our scrimmage with Cookeville with the recovery effort there," Hardin Valley head coach Brad Delano said. "We took supplies and we helped with the cleanup effort down there."

While the HVA Lady Hawks chipped in with some help, Hardin Valley wasn't the only school to participate in the effort to clean up Cookeville and help the city recover. Farragut, Bearden, Knoxville Catholic and Knoxville Central also joined.

"Our team and our girls team all pitched in and we took down supplies and thousands of dollars worth of gift cards," Delano said. "Ray (Dover) at Farragut, Ryan (Radcliffe) at Bearden and Chris (Quinn) at Central all chipped in."

Dover and his wife drove supplies down to Cookeville that his team and head coach Gordon Heins' KCHS Irish squad collected.

"Our parents and Catholic's parents collected supplies and my wife and I personally drove those supplies down there," Dover said.

Quinn and his Bobcats — who played their home opener against Seymour Thursday, March 12, in Central's Dan Y. Boring Stadium in Fountain City — collected supplies such as toothpaste, toothbrushes, blankets, gift cards and non-perishable can goods.