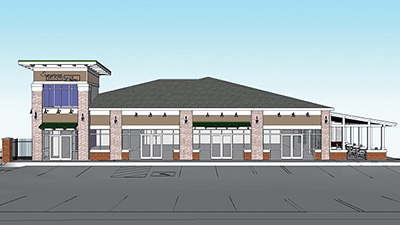 As Choto residential developments continue, Markets at Choto grows, adding more buildings with more businesses to serve the community.

"It's worked out almost exactly like I planned," said John Huber, John Huber Construction Inc. president and Markets at Choto developer. "The only difference is — when we bought it and started building in 2010 in the middle of the recession — it's just taken a little bit longer than I hoped.

"But with the tenant mix and the look of it, we've been very pleased," he added.

Huber currently is adding Signature Self-Storage at Choto, a 60,000 square-foot, climate and non-climate-controlled storage facility.

"It's a big deal out there," he said. "We've gotten people just calling, wanting to reserve areas in the storage, so we're excited about getting that open. I think we will be open in 60 to 90 days."

Central Veterinary Clinic is scheduled to open this summer in a converted house next door.  

Then, Huber plans to erect a 5,000-square-foot retail building in front of Signature Storage.

"We will have an additional 3,750 square feet available in spring/summer 2020," he said. "Even though it's not constructed yet, I've already got a wine bar (Van Edom's named after the owner Bart Van Edom), that has signed a lease.

Additionally, "we have property to build four more buildings to the west of the existing buildings," but he does not have immediate plans to develop in that space, Huber added.

When Huber first bought the 15-acre property at the corner of Northshore Drive and Choto Road in 2009, he envisioned creating "another Rocky Hill," a community behind West Town Mall in West Knoxville, in "an architecturally controlled manner."

The Markets had a slow start, which began in 2010 with the Weigel's convenient store along Northshore Road.

Huber built the four-unit brick building, but it took another five years before his first tenant, Noire the Nail Bar, moved in.

That same year, 2015, his development firm built Rural/Metro Fire Hall.

"The whole idea (of adding the fire hall) was to support the area," he said. "There were a lot of people asking for it."

Huber said having the fire hall "lowered all the (insurance) rates for everyone on the peninsula, so it was a huge win for Knox County residents out there.

Tennova Primary Care joined as tenants a year later, then Don Gallo in 2017. Then expansion speeded up with five new businesses — Belew Drugs pharmacy, Choto Family Dentistry, Medi Spa at Choto, Goodness to Go and most recently Johnny Brusco's New York Style Pizza -— opening within the past two years.