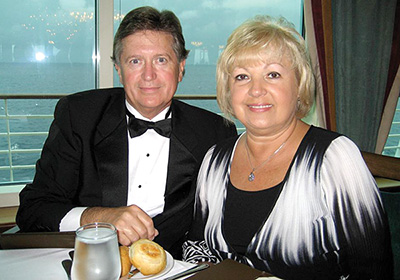 A Lovell Woods neighborhood couple were found dead from gunshot wounds Saturday, March 21, allegedly murdered by a Blount County man whose battered girlfriend sought refuge at their home.

Boyd and Doris Beets, both 67, allegedly were shot by Ronnie Edward Johnson, 31, of Alcoa after he crashed his truck into the front of their Live Oak Circle house while searching for his girlfriend, Amy Clarkson, also of Alcoa, according to Knox County Sheriff's Office reports.

The report also stated the couple had been fighting in Johnson's truck, and Clarkson managed to escape and run to the Beets' home, where a front porch light was shining.

Clarkson knocked on the door, and Johnson attempted to run her over as she was on the porch, and ended up inside the residence, the report further states.

Encountering the homeowners, Johnson allegedly shot them both after exiting the vehicle. Clarkson again ran from Johnson, who continued to chase her.

Officers had been contacted by nearby residents who heard the crash and the gunshots, according to the report.

Johnson was apprehended near the scene and was charged with two counts of first-degree murder, one count of attempted first-degree murder and one count of aggravated domestic assault. He is being held in Roger D. Wilson Detention Facility under a $2.52 million bond.

The KCSO Major Crimes Unit is leading the investigation.

"Please keep the family of the homicide victims in your prayers," KCSO Information Officer Kimberly Glenn stated in a press release. "This was truly a random event that resulted in tragic loss of life."

Doris Beets was retired from Knox County Schools and had worked about 20 years as an instructional assistant at Farragut Intermediate School, former FIS principal Kay Wellons said.

"She was just a wonderful lady and a stellar employee," Wellons recalled. "She loved the children and was just a fabulous person."

Doris Beets listed on Facebook she attended Farragut High School.

The Beets were members of First Baptist Concord.

Doris Beets also was remembered fondly by former co-workers.

Jayne Finch Atkins was a third-grade teacher at FIS, and remembered Doris as "always having such a pleasant smile on her face at work."

Another teacher, Shea Whaley, noted that Doris "laughed often and worked hard for those she assisted at FIS."

Just two months ago, Boyd Beets had received a 45-year service certificate from Oak Ridge National Laboratory, where he was an engineer in the Electrical System Engineering and Integration Group.