Farragut Crossing mom's Easter Egg 'walking scavenger hunt' a big hit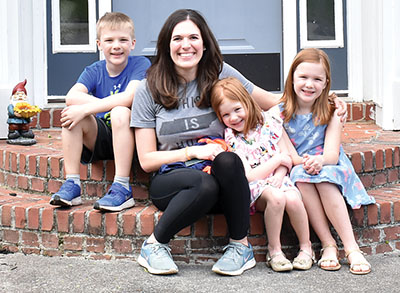 In the first days of the Coronavirus wave, Farragut Crossing resident Emily Miller mused about what she could do to help lift the spirits of those around her.

"I was watching the news out of Italy and saw where those residents were not able to be together, but they were all singing outside their windows," she said. "I thought, 'What could we participate in here and still keep our social distancing?'"

Miller, who works in curriculum development at the University of Tennessee, had seen where some folks in other cities were hiding shamrocks in their windows, in honor of St. Patrick's Day, which helped Miller chose a different seasonal and appropriate object — the Easter Egg.

Suggesting it on the social media platform Nextdoor.com, Miller promoted it as a "walking scavenger hunt" when she posted it Wednesday, March 18.

"Now that we are all out walking — and are home for the next few weeks. ... What if we draw an Easter egg and put it in a window that faces the front of our homes?" she posted. "While walking the neighborhood kids could look for eggs. Bring a smile and a little fun. Who would like to participate? No human contact, just fresh air, and an Easter egg. Let's start this up now."

She, along with her husband, Chris Miller, and children, Franklin, Caroline and Ella, kicked off the "hunt" by coloring paper eggs and taping them to their front windows. The family ended up with several in plain view.

Her social media post drew immediate and far-reaching responses, with nearly 80 commenting positively on the effort — and not just in Farragut Crossing, but also from residents in Fox Run, Kingsgate, Smithfield and Jefferson Park neighborhoods, offering to participate.

"Cute idea, we're in," Diana Gerchar of Farragut Crossing said. "Best idea ever," Amanda Howell of Kingsgate said.

"We had really good response," Miller said. "Several people did a lot more and put out their Easter decorations, too. Some folks have put out butterflies. I'm so glad, just wanted to find a way to bring joy and encourage a sense of community while all of this is going on."

As more people began participating, several suggested moving the decorations around every few days or so to keep up the element of surprise as children and adults "hunted for eggs."

Visit Farragut also profiled Miller and her idea in a video shoot right after the "hunt" started.

It is her hope the "hunts" will continue through Easter, which is April 12.