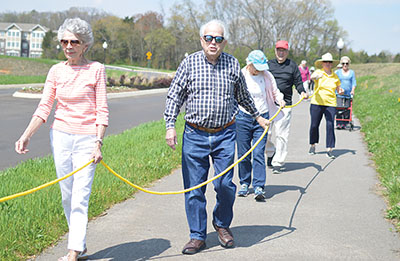 While being asked to "stay home," it's easy to get cabin fever.

That hasn't stopped Farragut and other area residents from inventing creative ways to pass the time and sharing their activities on social media.

For instance, since Zoo Knoxville has closed it has been asking people to send in videos of their imitations of animal sounds, and several area residents have started "Teddy bear" scavenger hunts.

Closer to home, Rotary Club of Farragut member Terry Kerbs is "replacing my greenhouse, mulching, planting flowers and a lot of honey-do list items."

Michael Singletary, another RCF member, also is doing yard work. Additionally, "I'm learning to play 'lead' guitar, jogging a little on the street instead of at Fort Sanders and enjoying the music videos on YouTube.

"I think that soon I will have read everything on the Internet, but it does help pass the time," Singletary added in jest. "My wife reminded me that the old song I have been singing is "Corina, Corina" … not "Corona, Corona."

Residents of senior living facilities, with help from staff, also are finding creative ways to stay active.

Villages of Farragut

Villages of Farragut residents are finding singers serenading them from outside their apartments and taking "social distancing" walks using a rope to help keep them 6 feet apart, among other activities, said Sandi Simpson, Villages of Farragut resident event director.

"We're trying to do as much as we can," she added.

Park Place of West Knoxville

Park Place of West Knoxville residents, for example, are playing doorway Bingo.

"We have a microphone," activities director Rebecca Phillips said. "We go to each hallway at certain times and they will get a Bingo card that they keep in their apartments. We call out the numbers, so they can play that.

Also, the staff will place residents' grocery shopping orders and pick them up.

Morning Pointe Lenoir City

Morning Pointe of Lenoir City activities director Cami Entrekin said her residents have been going on virtual tours all over the Southeast region via the Internet, visiting places where there are other Morning Pointe locations.

"Each day we learned about a city and its history," she said. Morning Pointe residents also had a virtual horseracing day and dressed for the occasion.

Additionally, family members had "virtual visits," going to their loved ones' windows.