Hixson: 'it's the love of bike racing ... I don't plan to quit' competing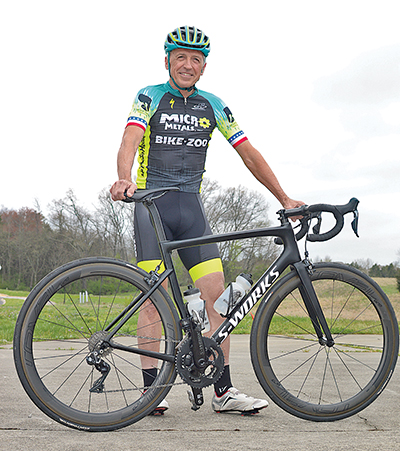 Camden Grove subdivision resident David Hixson, 70, already has won eight cycling national championship titles — and is not about to stop.

"I plan to (race) as long as I can," he said. "I don't plan to quit.

"I've raced in Indiana, Kentucky, Georgia, Washington state, Utah," Hixson added. "I've raced all around the country.

"I ask myself how much is enough. I've got eight national titles, but … it's the love of bike racing. It's not so much about the quest to win another national championship, I just like the competitions."

When training on the road, "there's a certain degree of serenity," Hixson said. "You get this feeling of being in touch with nature, especially if you're on your bike.

"I like to ride the Foothills Parkway," he added. "It's such a beautiful, beautiful place and in the summertime. It's just a fantastic place to ride."

Still feeling the 2019 national championship victory, Hixson is getting ready for the next race, scheduled for early August in Cedar City, Utah.

"It remains to be seen what's going to happen this year with the issues going on," he said about the coronavirus pandemic, noting USA Cycling, the governing body that holds the races, has curtailed all racing and sent out a directive: no group rides.

Hixson, a retired chemical engineer who worked on restoration projects for the Department of Energy in Oak Ridge, came to Farragut in 2001 and retired in 2015. "Since I'm retired I can ride during weekday, at times when there's very little traffic," he said.

When asked what keeps him ahead of other cyclists, he replied, "I think it's just the longevity and genetics.

"I don't have any secret diets or anything of that nature, but I do train consistently and I train hard," Hixson added. "I think that makes me who I am."

But you won't see computers on his bikes. "I'm an old-school cyclist," he said. "I ride and train by feel.

"I'm fully aware that, in today's technology, there are quite a few of the cyclists that are well into the tracking and evaluating their statistical performance," Hixson added. "They really rely on that, and they wear heart-rate monitors and various types of monitoring equipment. As a matter of fact, I'd probably rather not know my heart rate because it might scare me."

Active most of his life, Hixson was participating in triathlons when he took up cycling. He and his family moved to St. Louis in 1989 for his job as a chemical engineer for a DOE facility there.

"I started racing bikes in 1990, right before my 40th birthday," he recalled. "While I was doing some triathlons, I met some of the local bike racers, and they asked me if I would be interested in joining their team, racing bikes, so that's what got me started into it."

With more than 150 victories in various categories, Hixson's first national win was in 1996 in Linton, Indiana. "I don't think I slept that night. I was so excited," he recalled.

Hixson's wife, Tricia Hixson, also ran and rode bikes with him until 1997 or 1998, when she suffered a bicycle accident.

Still an avid runner, Hixson said about racing and running, "I think you kind of get addicted to it. I feel physically better when I'm active. I don't ride as much in the winter simply because of the weather."

He also took up tennis a couple years ago. "That kind of augments my fitness," Hixson said.