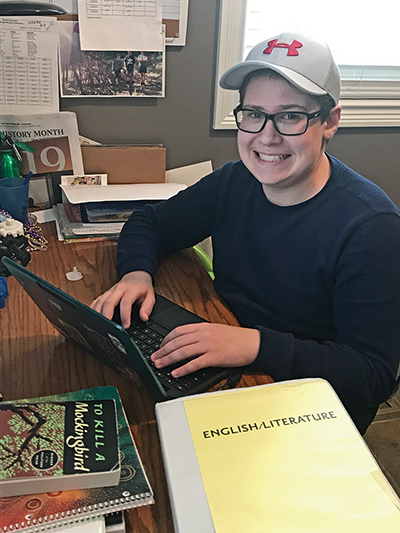 Episcopal School of Knoxville, 950 Episcopal School Way, has moved to a virtual teaching platform as a result of the coronavirus pandemic, communications coordinator Caroline Wood announced.

"I love it, because it's kind of like being at school," first-grader Paige Tannhauser said. "They tell all the steps of what to do, but we are not at school doing it, we are at home instead."

"The online school has been a big change for us all, but my ESK teachers have made it easy for us to learn during these difficult times," eighth-grader Colin Cook said.

Virtual ESK was launched Wednesday, March 25, and Woods said it is going really well.

"Students log in each day to their Google Classrooms to connect with their teachers and peers," she said, adding ESK is accepting students to its Virtual ESK program. "Families may e-mail Corinne Mattern at cmattern@esknoxville.org for more information."

"As a teacher, virtually teaching is definitely different," ESK first-grade teacher Genna Kuban said.

"My team teachers, Chris Bishop and Cindy Rasnick, as well as our director, Beth Sterchi, think of creative ideas for us to share with our students virtually."

"I miss (students') hugs and seeing them interact," she added, but noted, "I am thankful to have supportive families in my first-grade class and thankful for the opportunity to work with wonderful colleagues."

Our students seem to enjoy our lessons and activities," she added. "When we started teaching virtually, we kept it as normal as possible. We also have done live recess times, where the students can interact with one another.

"It does take a bit more planning on my part to record lessons, but I like the virtual platform, Google Classroom," Kuban said.

Wood said middle school students video call into their classes and have "regular" instruction while lower school students log into their classrooms and have videos of their lessons and assignments they do with an adult.

The junior kindergarten class has been on outdoor scavenger hunts; first-graders are learning about rhymes in poems; and sixth-graders are learning about histograms. 

Woods added ESK's teachers "have really been amazing.

"They worked so hard to get their Virtual ESK classrooms up and running smoothly, and they succeeded," she added. "Due to their diligence, we were able to start school back almost immediately after Spring Break."

"During these uncertain times, our faculty has joined together as a team to learn how to deliver content while focusing on

connecting with our students," said Mary Lovely, director of middle schools. "The biggest challenge is missing our students and families."

David Spates, middle school science teacher, said feedback teachers have gotten from parents has been "overwhelmingly positive."

"I teach fifth-grade math and science, and I've heard from quite a few parents about how thankful they are that ESK has continued school through this pandemic," he added. "They appreciate our flexibility and our willingness to do whatever we can in the best interests of their children. They've also been quite understanding."

"As far as the students go, and most of them probably wouldn't admit this, they enjoy the normalcy that we've been able to establish," he said. "There's security and comfort in seeing your teachers' faces every morning and going through the routine of a school day.