Glandon's way to 'lift up neighbors' during pandemic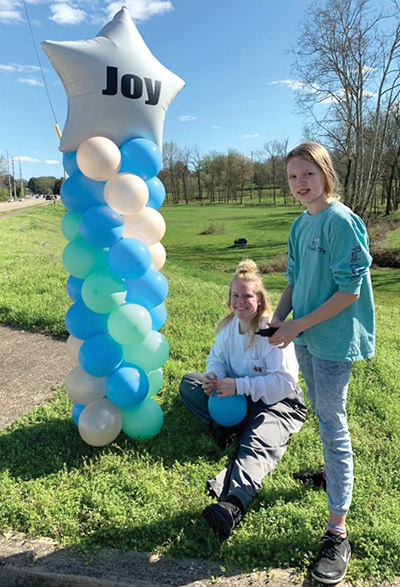 Anyone feeling cabin fever during the ongoing "Stay at Home" COVID-19 orders need only drive along Ebenezer Road in the Blue Grass community for a colorful and inspirational lift at the hands of local balloon artist Dianna Glandon.

As owner of "Above the Rest Balloon and Event Design," she has been using her skills and creativity to "lift up" neighbors and friends during this pandemic, with balloon columns and messages of hope and positivity.

It was actually a response to business downturn that spurred Glandon's creativity and generosity.

Like many small business owners, Glandon's event design business — which she founded in 2006 — "was hit hard with the order to stay at home," she said.

Overnight, she had mass cancellations from clients who had booked her business to decorate their events.

Worried about how to keep her employees on payroll, Glandon said she literally hit her knees in prayer, and what she heard was she needed to use what she knows best to bring joy.

Glandon, employee Piper Wells and Glandon's 11-year-old granddaughter, Emma, got busy designing some balloon displays and placed them at neighborhood entrances along Ebenezer Road just as the pandemic began.

They also created two colorful sculptures to put in front yards. The first sculpture was "Faith" and the current one is "Rise Up."

Emma also created some free balloon activity kits, available to people strolling down the sidewalk.

People started to react to and inquire how they could get the Spirit Lifters for their neighborhoods. So, being a creative entrepreneur, Glandon created a "Spirit Lifter" program through which people could order sculptures for delivery to be put in their yards.

"The demand has been high for these," she said.

To be respectful of the "stay at home" order, Glandon began only offering yard delivery, which limited her capacity. To make it possible for more people to have and share the Spirit Lifters, she created "Do It Yourself" kits families can do together to create a mailbox or porch version.

Kits come with balloons, straws to inflate them, an encouraging vinyl sticker and instructions. Emma even made a YouTube video to show how to put them together.

Glandon is full of gratitude about the reaction she is getting when people see the Spirit Lifters.

"This idea was truly from God," she said. "As always, He opens my eyes to things that allow me to provide joy."

To express her gratitude, Glandon is donating a percentage of the Spirit Lifter profits to Knoxville's Emerald Youth Foundation.

She is a long-time supporter of the organization, which had to cancel its major spring fundraiser because of the pandemic.

Glandon is one of only 3,000 Certified Balloon Artists around the world. Her team's award-winning designs have received multiple recognitions at The World Balloon Convention.

She also joined about 400 fellow balloon artists around the world this past weekend to create "One Million Bubbles of Hope."

"We all put balloons in our yards to show hope and unity," Glandon explained.

For more information, visit  www.abovetherestballoons.com or email dianna@abovetheresteventdesigns.com.