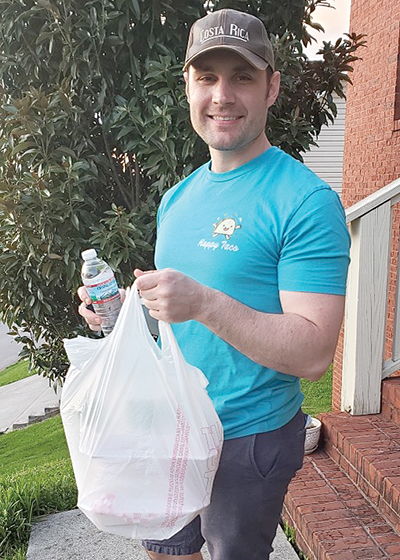 A Farragut couple is looking to help the community while also keeping their once-thriving business alive amid the COVID-19 shutdowns.

Austin and Vanessa Tutor own the food truck, Happy Taco, which until March last year served a steady stream of hungry University of Tennessee students and faculty at the corner of 19th Street and Cumberland Avenue.

Since they had to close it down, and thinking of ways to keep the name and reputation going, they offered their signature street tacos twice to Farragut neighborhoods two weeks ago and are planning to do the same this coming Saturday, April 25.

Part of the service is providing free no-contact delivery and offering free meals to those who can't afford it, Austin said.

"We were able to help a few people," he said of the first set of deliveries, which completely sold out of the two batches he and Vanessa made.

A native of Memphis, Austin met his wife of nearly four years in the Knoxville metro area, as she and her family relocated here from Mexico about 20 years ago.

It was really for Vanessa's parents that Austin started the Happy Taco business.

"They worked for many years and also had a lifelong dream of owning their own food truck," Austin said of Eberardo and Elidia Bedolla, for whom he purchased the truck and started the business.

"I already had three businesses (he owns a professional basketball agency, a digital marketing agency and a video production company) and didn't need to build a fourth one, but I wanted to do it for them," said Austin, who added his wife's siblings also work for Happy Taco, making it almost a complete "family operation."

"It has been so much safer for them than their previous job, and they really enjoy it."

It is the family's recipes that make up the unique Happy Taco fare.

"They wanted to make tacos, literally street tacos, like they knew in Mexico," Austin said. "There is no one else who makes them like they do. Even Mexican restaurants have a tendency to Americanize their dishes, but these are a different style.

"Everything is fresh and everything is handmade, even the tortillas and the salsa. We also use a nine-ingredient seasoning on the meat," he added.

While Austin's in-laws have temporarily gone back to their previous jobs during the pandemic, he and Vanessa are doing what they can to help the business and community in the meantime.

They will be feeding an entire medical office in Lenoir City Friday, April 24, offering free taco lunches to nurses and providers.

"They deserve it for risking their lives for us without hazard pay in many cases," Austin said.

On Saturday, April 25, they will deliver to within a 12-minute drive of their Walnut Grove neighborhood from noon to 3 p.m. for lunch and from 5 to 8 p.m. for dinner.

They plan to prepare 500 steak tacos and 100 chorizo tacos.

Suggested donations are $3 per taco and $1.50 for drinks (water or soft drink).

"And, as always, if you can't afford your tacos due to financial hardships, my wife and I will cover your meal," he added. "We want to contribute in some way and tacos are what we do best."

They have several payment options from which to choose, including Venmo and PayPal.

To place an order for Saturday delivery, call or text 901-949-9212 or 865-203-0382.