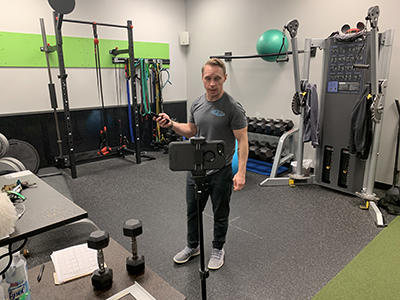 By necessity, Farragut physical fitness centers have gone virtual.

Among them, Anytime Fitness, Fitness Together and Burn Boot Camp are offering online classes.

Anytime Fitness and Fitness Together are offering the classes through Zoom, which is accessible by any cell phone, computer or other device with online capabilities.

"We have a whole online virtual schedule," Rebekah Luhrs, manager of Anytime Fitness, 12572 Kingston Pike. "They are being offered through our Facebook page."

She noted the classes are geared toward current members continuing to pay their dues.

However, "Anyone can basically go on our Anytime Fitness Farragut Facebook page and access these classes for free right now," Luhrs noted.

"Depending on what you're interested in, we have three different types of classes that we're offering right now: four Fun Fitness classes; two yoga classes and two Zumba classes," she added. "I believe they meet through Zoom."

Luhrs explained the individual not only would see the instructor, she/he also would be able to see the other people in the class if she/he chooses.

"It's like a social video call," she added. "These (classes) are all at our regularly scheduled times that we would usually host them at the gym.

"It's pretty awesome seeing the amount of response that we've had in members attending virtually," Luhrs added.

To join, visit Anytime Fitness' Facebook page at https://www.facebook.com/AnytimeFitnessFarragutTn/

Likewise, Fitness Together, 11521 Kingston Pike, also is offering online classes through Zoom.

"Then we're actually going through live fitness training classes with our clients, and we're offering [them] to anyone in the community who would like to try a one-on-one workout with a trainer (that) their first session is free to try," owner Andrew Henderson said.

Since it closed its doors March 17, Burn Boot Camp, 11560 Kingston Pike, has been using a Members Only Facebook Page platform, owner Kristy Smith said.

It currently is offering live camps each day using Zoom, and is offering a free 14-day trial for prospective members.

Planet Fitness, with a facility in Village Green Shopping Center at 11433 Kingston Pike, is hosting a free class at 7 p.m., Monday to Friday, and 8 a.m., Mondays and Wednesdays. For details, visit https://www.planetfiness.com/united-we-move or its app at http://pla.fit/app.