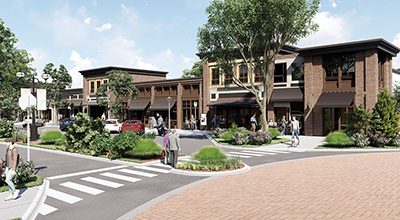 Farragut Municipal Planning Commission members gushed over concept plans for the old Kroger shopping center last Thursday, April 16, which may finally give Farragut the Mixed Use Town Center officials have long anticipated.

Developer and Farragut High School graduate Budd Cullom of Cullom Properties provided the plans in advance — first during the regular Staff/Developer meeting Tuesday, March 31, then an updated set of plans last week reflecting initial feedback.

Initial reports estimated the cost of the development could be upward of the $50-to-$80 million range.

"It does seem to be a little bit out of sequence, to have the architectural plans before the site plan," Cullom told the group. "But we realized the potential for flood problems (fairly quickly) … and are expecting a comprehensive study that will allow us to finalize the concept plan."

Cullom's vision for a 30-to-40 acre tract includes a "main street" thoroughfare which would begin directly across from Lendon Welch Way — the main entrance to Farragut High School along Kingston Pike — and feature commercial properties on each side of the street, along with ample sidewalks and angled parking.

Proposed shops, restaurants and office space would wind through the as-yet-unnamed development.

Cullom said during the Staff/Developer meeting Biddle Farms or Town Center at Biddle Farms (in honor of the long-time property owners, the Biddle family) have been tentatively discussed as possibilities — and lead to a high-end multi-family housing development on the back portion of the property.

"This checks a lot of boxes in the strategy to bring a downtown to Farragut, and I think this will become a great centerpiece and asset for Farragut for many years to come," Commissioner Scott Russ said.

One key standout among the drawings is a proposed anchor tenant with a very recognizable building design, which Commissioner Noah Myers quickly noted.

"I applaud the thinking behind this development," Myers said.

"I'm a little concerned with the freestanding building, probably an Aldi's which is awesome — but I would try to encourage them to incorporate more traditional design elements with that building," he added.

Later in the meeting, Cullom responded to Myers' comments.

"That freestanding building, most people could guess, and I am not at liberty to say the name, but I would say the Commissioner who took a stab at it, is probably fairly spot on" with his assessment of the tenant, he said. "We have had discussions with the tenant, and they are open to some modifications, and it will not be totally freestanding."

Commissioner and Town Vice Mayor Louise Povlin said, "I know this is not up to the developer to do, but I would ask that they look for opportunities where we may be able to address the entrance into FHS."

"... I might add I'm a 1982 graduate of Farragut — so it's kind of like I'm coming home, and I have a little bit of a heartstring desire to make that look better also," Cullom responded.